Meghan Trainor & Alanis Morissette Clucking 'Ironic' As Giant Chickens... Yep, That Happened!
5 November 2015, 11:24 | Updated: 5 November 2015, 11:29
Jimmy Fallon, Alanis Morissette & Meghan Trainor Cluck "Ironic"
02:34
No, you're not seeing things. They really DID team-up with Jimmy Fallon to cover the hit as farmyard birds.
OK this is the LAST thing we expected to wake up to this morning… Meghan Trainor, Jimmy Fallon and Alanis Morissette herself covering her signature song 'Ironic' dressed up as giant chickens!
As only a Jimmy Fallon sketch can you'll be laughing your ass off from the minute you hit play on the video above, because they sing the ENTIRE song using only hen clucks. Yep, this is definitely original!
The 'Jagged Little Chicks' are about as unique a super-group as you can ever get but, you know what, we're kinda loving their style.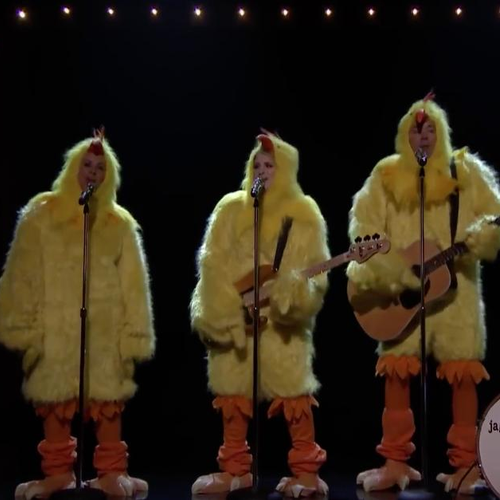 You may also like...