WATCH: Madonna Falls Off Stage At The BRITs - And Carries On Like A True Professional!
26 February 2015, 09:05 | Updated: 26 February 2015, 10:59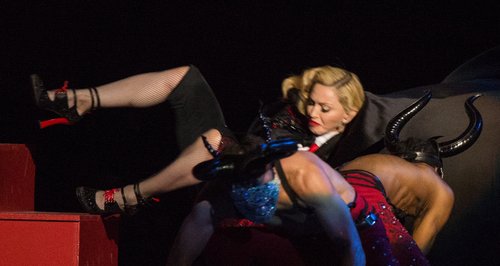 Watch the MOST shocking moment of the BRIT Awards - if not of 2015 so far - and Ed Sheeran's reaction to Madonna falling off stage.
When Madonna took to the BRIT Awards stage after 20 years, we were expecting one heck of a show - but nothing like what we actually saw happen. Poor Madonna suffered one of the scariest stage falls as a wardrobe malfunction ended up with her being dragged off stage.
Madge entered for her performance of 'Living For Love' in a full-length cape which was meant to be ripped off in one smooth movement by her dancers - but the neck tie failed to open and an overzealous dancer ended up dragging her backwards down three steps by her neck. Yikes!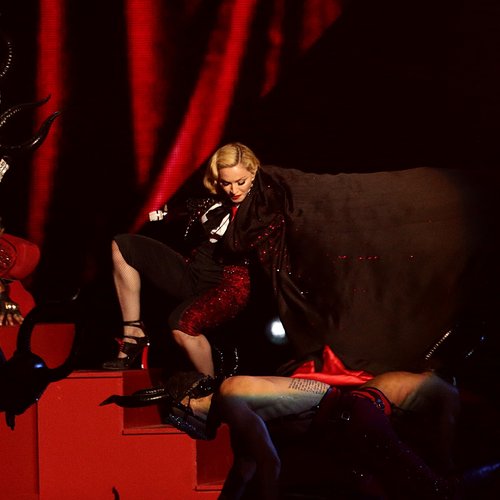 A fall like that would signal the end of most people's performances, but being the true professional, Madonna was on her feet in seconds and carried on with her energetic dance routine. It's no surprise she was a bit shaken up by the mishap, but she put on an excellent performance nonetheless.
The internet reacted in utter shock as thousands of viewers couldn't quite believe what they were seeing:
Honestly feel bad for @Madonna not a nice thing to happen falling on stage! The ultimate pro just kept going! That takes class!

— Olly Murs (@ollyofficial) February 26, 2015
POOR MADONNA

— Olive (@OliviaFirth) February 25, 2015
I can't get over madonna getting dragged off the stage

— Summer Heley (@SummerHeley) February 25, 2015
Actually feel bad for @Madonna just want to give her a ring and see if she's alright

— Donna Nickolay (@DonnaNickolay) February 25, 2015
Poor Madonna that must of hurt! Been a fan since she started (shows age!) but wow she rocked the #BRITs at 56yrs old #madonnarocks

— Anita (@Neetc) February 25, 2015
That was NOT a "little spill" at the #BRITAwards! I can't believe @Madonna still finished her performance! That definitely HURT!

— ZACCY (@ZACCYTWEETS) February 25, 2015
Ahead of her performance, 'Living For Love' had shot up the iTunes chart to number one - so there were a lot of people rooting for Madonna to be alright after her nasty accident.
Speculation has already started on Twitter about who the culprit behind Madonna's fall might have been….
EXCLUSIVE: Dancer who tugged Madonna's cape revealed pic.twitter.com/OMCrrpuK1b

— Ben Kenyon (@Benjkenyon) February 25, 2015
It's not how we expected it to end, but there's no denying the #BRITs2015 was one unforgettable night!
Double winner on the night, Ed Sheeran, missed the actual fall in person but he's not too worried for the Queen of Pop's ego - even Beyonce falls over on stage after all!
You May Also Like: