WATCH The Moment Three People Madonna's Age Get A FIRST-LOOK At Her Grammys Performance Video
9 February 2015, 17:08 | Updated: 9 February 2015, 17:39
The Internet goes crazy following Madge's live performance of new song 'Living For Love' at the 2015 Grammy Awards in LA.
Madonna certainly hit the headlines following what was described as a VERY raunchy live performance at last night's Grammy Awards in LA, but was it REALLY as bad as the internet made out?
We thought it was only fair to put her fate in the hands on three people the same age.
The 56-year-old mother of four took to the stage in a risque matador outfit, before being joined by a group of male dancers dressed in leather for a live rendition of new song 'Living For Love'.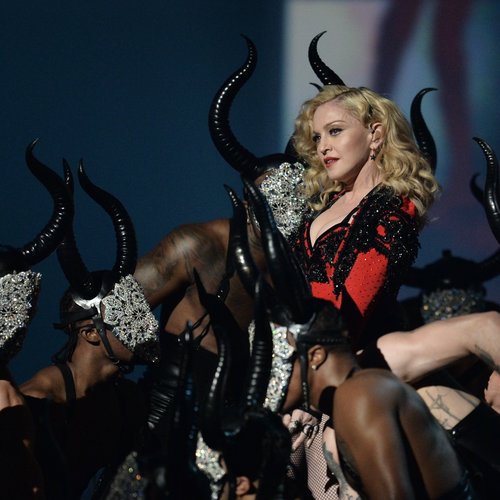 Her set certainly caused mixed reviews on Twitter with some critics labelling her "too old".
I mean, @Madonna is a living legend & all but anyone else think her #GRAMMYs performance was just gross for a 60 year old woman?! #LetItGo

— Christine Kirk (@LuxuryPRGal) February 9, 2015
hasn't anyone told @madonna how old she is? is there anyone at home that can prevent her from leaving the house looking like that? #grammys

— Diane (@Dianepmny) February 8, 2015
Watching the Grammys... Madonna.. You need to stop. Your to old for those outfits and dance moves...

— evelyn bermudez (@evybermudez) February 9, 2015
Fans quickly jumped to the award-winnng stars defence complimenting her incredible figure and stage presence.
At 56 years old, Madonna puts on the best performance at the grammys and is so heavily talked about!

— Living For Madonna (@LUV_Madonna95) February 9, 2015
Can I look like her when I am 56? SHE IS 56 YEARS OLD PEOPLE! #Madonna #Grammys

— Lisa Sparks (@lisasp11) February 9, 2015
Madonna - 'Give Me Love'
It wasn't all doom and gloom across the web today however as the whole world fell even more in love with Sam Smith. The chart-topping star walked away with FOUR Grammys including Record Of The Year with 'Stay With Me'.
The night also brought us some INCREDIBLE performances from the likes of Beyonce, Madonna, Pharrell and Rihanna. Check out the full list of Grammy Winners here.
Let us know what you think of this year's Grammys AND Madonna's performance in the comments section below.
---
You may also like...