See the girls in action in their AMAZING new video for the latest 'Get Weird' music video.
We've been a little bit obsessed with Jesy, Jade, Perrie & Leigh-Anne's super-emosh ballad with Jason Derulo since the girls dropped their 'Get Weird' album in 2015.
And now we've got a new video to watch on loop!
The super-arty has the girls looking fierce (and a bit cold) around London, with Jason Derulo busting his usual moves in a loft overlooking Tower Bridge.
Download 'Secret Love Song' on iTunes.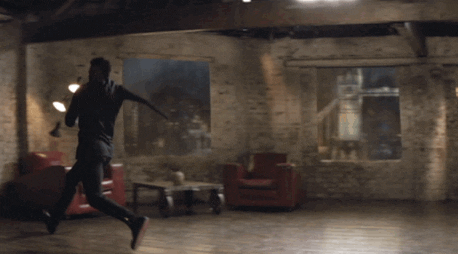 Also, with all the soft fades and thick coats, we can't help but think of the music video for Spice Girls' '2 Become 1'... Can't be just us, right?
The girls surprised us ALL back at our Jingle Bell Ball with Coca-Cola when they brought jason out for their first EVER live performance together.
Little Mix feat. Jason Derulo - 'Secret Love Song' Lyrics
When you hold me in the street
And you kiss me on the dance floor
I wish that it could be like that
Why can't it be like that? 'Cause I'm yours

We keep behind closed doors
Every time I see you, I die a little more
Stolen moments that we steal as the curtain falls
It'll never be enough
It's obvious you're meant for me
Every piece of you, it just fits perfectly
Every second, every thought, I'm in so deep
But I'll never show it on my face

But we know this, we got a love that is homeless

Why can't you hold me in the street?
Why can't I kiss you on the dance floor?
I wish that it could be like that
Why can't we be like that? 'Cause I'm yours

When you're with him, do you call his name
Like you do when you're with me? Does it feel the same?
Would you leave if I was ready to settle down?
Or would you play it safe and stay?

Girl you know this, we got a love that is hopeless

Why can't you hold me in the street?
Why can't I kiss you on the dance floor?
I wish that it could be like that
Why can't we be like that? 'Cause I'm yours

And nobody knows I'm in love with someone's baby
I don't wanna hide us away
Tell the world about the love we're making
I'm living for that day
Someday
Why can't I hold you in the street?
Why can't I kiss you on the dance floor?
I wish that we could be like that
Why can't we be like that? 'Cause I'm yours, I'm yours

Oh, why can't you hold me in the street?
Why can't I kiss you on the dance floor?
I wish that it could be like that
Why can't it be like that? 'Cause I'm yours
Why can't I say that I'm in love?
I wanna shout it from the rooftops
I wish that it could be like that
Why can't we be like that? 'Cause I'm yours

Why can't we be like that?
Wish we could be like that