Lily Allen Spoofs Twerking And Robin Thicke In Video For New Song 'Hard Out Here'
13 November 2013, 09:35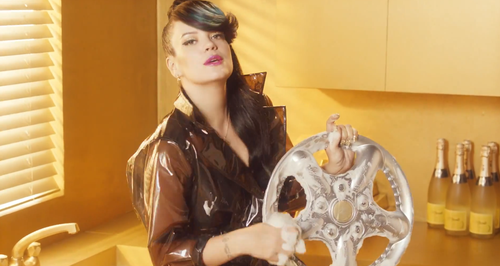 The 'Not Fair' singer makes a big impact with her brand new single and controversial music video.
Lily Allen has shocked the music industry by unveiled a brand new music video that takes shots at twerking, Robin Thicke and the world's obsession with sex appeal.
'The Fear' singer Lily gave a surprise unveiling to her new single 'Hard Out Here' yesterday evening (12th November), which features a raunchy video where Lily deconstructs some of the recent pop trends.
The video for 'Hard Out Here' opens with Lily about to go under the knife on a surgeons table as her manager claims she has let herself go, and ignores her cries of "I've had two children!"
The video then goes on to show Lily ironically attempting to fit in with the modern pop world by performing with a group of twerking back-up dancers, suggestively eating fruit and spelling out explicit statements in balloons, a clear dig towards Robin Thicke's 'Blurred Lines' video.
Check out a still of Lily Allen for her 'Hard Out Here' music video below:
Lily's lyrics for the song also criticise the recent pop obsession with twerking as she declares: "Don't need to shake my a** for you 'cos I've got a brain".
At the end of October Lily dressed up as a green alien to join Robbie Williams for a performance of their cover 'Dream A Little Dream' at a Halloween themed charity event.
The UK singer has been working on new music for the past year, and recently promised themes of empowerment and "feminist vibes" for her third studio record.
Lily Allen is expected to return with her new album in early 2014 while her cover of 'Somewhere Only We Know' is charting well on iTunes thanks to the new John Lewis TV advert.