Lily Allen Denies Mocking Beyonce With G-A-Y Performance: "This Is So Boring"
28 April 2014, 11:08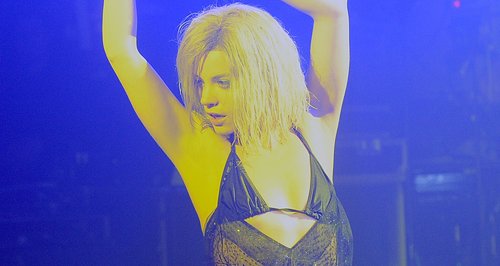 The 'Sheezus' star insists her performance of 'Drunk In Love' wasn't done to mock the 'XO' star.
Lily Allen has denied claims her performance at G-A-Y London over the weekend was "mocking" Beyonce, and insists it was a tribute to the US superstar.
During her performance on Saturday night (26th April) Lily returned to the stage dressed in a blonde wig, black bikini and sheer top for a cover of Beyonce's hit 'Drunk In Love'.
However, after being criticised for the performance on Twitter, Lily took to her own account to defend the tongue-in-cheek cover.
"Each time I play G-A-Y I do a cover in drag," Lily tweeted after readying some of the responses on Twitter. "1st time I did Dorothy, last time Britney, this time Queen Bey.
Who do people jump to conclusions?" Lily questioned. "I wasn't mocking Beyonce, like I wasn't dissing anyone on #SHEEZUS, this is so f*****g boring."
Only one person can tell you what my intentions are, and that would be me.

— Lily Allen (@lilyallen) April 27, 2014
Each time I play GAY I do a cover in drag. 1st time I did Dorothy, last time Britney, thus tone Queen Bey. Why do people jump to conclusions

— Lily Allen (@lilyallen) April 27, 2014
You may also like: