Liam Payne Has Finally Explained Why His Debut Music Video Was Just Removed From YouTube
2 June 2017, 12:26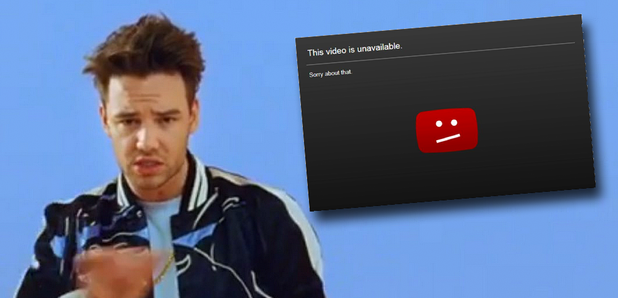 If you blinked, you probably missed it.
Liam Payne has been enjoying a lot of success from his single 'Strip That Down'. After announcing the birth of his son with Cheryl, Liam's 2017 got even better as his debut song hit number 2 on the Vodafone Big Top 40.
Whilst we love the song itself, we know how important music videos are in today's world and everyone was eagerly anticipating the 'Strip That Down' vid. Was it going to be a full on party scene or was Liam going to do something super creative and boundary breaking?
WATCH: "This Is Horrible" - Liam Payne Grilled A 1D Fan On A Lie Detector, Exposing Some Nasty Truths!
Well fans got an unexpected glimpse of the official music video last night (Thursday 1st June) as it appeared on Liam's official Vevo channel...
Really in love with STD music video. I'm proud of you Liam James Payne. Great job !!@LiamPayne #StripThatDown #STRIPTHATDOWNMV pic.twitter.com/v60NimSIZa

— Daria // exams (@sassy1dxx) June 2, 2017
Unfortunately for everyone else who dudn't manage to see it, the video was quickly removed from YouTube and fans were left wondering what was going on!?
I AM SHOOKT. But since the video was deleted, i am now SHOOKNT Liam Payne dancing in his video is #StripThatDown @LiamPayne

— Winny Grace (@winnypanini) June 2, 2017
OMG I was wondering why the video was already released and all of a sudden it disappeared?? Anyways we're gonna love it

— m;4 years with BTS (@taebaeftkookie) June 2, 2017
I hate the fact that they removed the video now Liam's lost those views. HE WORKED SO HARD FOR THIS WHY DOES EVERYONE KEEP SPOILING IT !!!

— Happy Puppy (@LiamLitAFPayne) June 2, 2017
Turns out that someone had actually leaked it a day early and it had been removed in order to be released at the pre-planned time. Liam even took to Twitter to explain what had happened...
Sorry guys someone leaked the video, it will be live again at 7.30pm BST look forward to you seeing it then!

— Liam (@LiamPayne) June 2, 2017
If you managed to watch the video whilst it was up, we hope you enjoy the next few hours being one of the only people in the world to have seen it, as Liam won't be sharing it until 7.30pm tonight (2nd June).
Spoilers: No, Cheryl doesn't appear in it. No, other members of 1D don't appear in it. No, despite the song title, no one actually strips.
Now let's remind ourselves of the first time that Liam and Cheryl met shall we?