Liam Payne Just Gave BTS' Jimin The 'Mic Flipping' Crown
13 September 2018, 11:07 | Updated: 13 September 2018, 14:25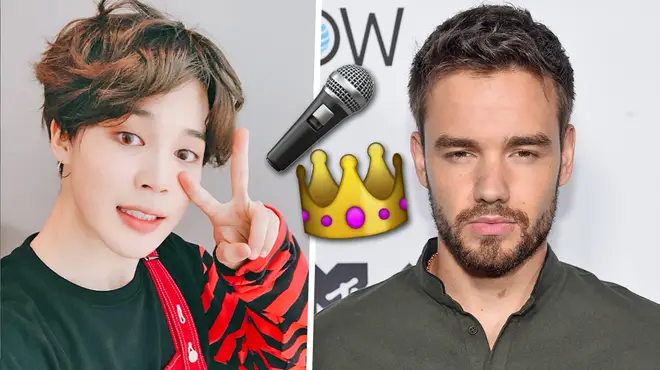 Liam Payne's praise of BTS star Jimin has finally made the One Direction & BTS worlds collide.
During One Direction's live shows, Liam Payne was known for his mic flipping skills, however he's now handed that crown over to BTS' Jimin and fans are freaking out.
> BTS 'Love Yourself Tour' In London: Tickets, Dates And Latest Updates And News
Taking to Twitter, one fan shared a GIF of Jimin mic flipping on stage with BTS and said, 'Thats talent. I want him to have a mic flip duel with @LiamPayne #BTS #JIMIN #Liampayne #FirstTime'.
Surprising everyone, Liam then replied to the tweet and bowed down to Jimin's mic flipping ability, handing the crown to the BTS star.
Declining the offer of a mic flipping battle, Liam wrote, 'Nah he wins. I'm out' alongside a cry laughing emoji and we're still kinda just sat here shook that One Direction and BTS have just collided.
But Liam isn't the only One Direction star to interact with the BTS universe as Niall Horan was recently spotted in a picture at a meet and greet with fans doing the Anpanman pose.
Sharing Niall's BTS tribute on Twitter, one fan wrote, 'Stan Twitter, I give you Niall Horan wearing a #Shooky headband (which he chose), doing the Anpanman pose: Congrats, and thanks for making it happen'.
BTS have been building their fanbase all over the world during their current world tour and even peformed a stunning live set at America's Got Talent recently.
With all this BTS and One Direction crossover happening, it's making us think of all the other ways these two worlds could come together - how about BTS doing a K-pop cover of 1D's 'If I Could Fly' on their Love Yourself World Tour dates in the UK? Well, we can dream...
> Download Our Free App For All The Latest BTS & One Direction News!