Lawson's Capital TV Mixtape To Air All Next Week
5 October 2013, 16:40 | Updated: 6 October 2013, 20:41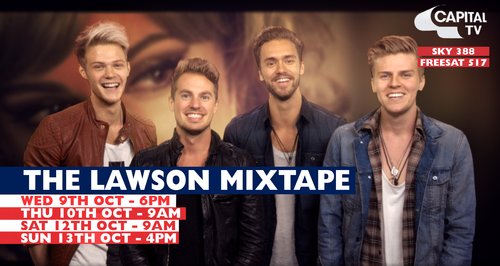 Lawson takeover Capital TV next week with their brand new mixtape show, as voted for by Capitalfm.com readers on Twitter and Facebook.
The 'Brokenhearted' four-piece have put together a two-hour mixtape of their favourite music videos of the moment, and Lawson fans will get to watch the boys in action all week across Capital TV.
Andy Brown, Ryan Fletcher, Adam Pitts and Joel Peat will be bringing you their picks for the best songs beginning with the first airing if The Lawson Mixtape on Wednesday 9th October at 6pm.
The show will then be repeated throughout the week the following day (10th October) at 9am and then across the weekend on Saturday (12th October) at 9am and then again on Sunday (13th OCtober) at 4pm.
Lawson are set to release repackaged version of their debut album, retitled 'Chapman Square Chapter II' on 21st October, featuring their brand new single 'Juliet' which drops on 13th October.
Check out Capital TV right now across Sky 388 / Freesat 517, and you can also get Capital on your iPhone/iPad app available here
Check out the full airing times for The Lawson Mixtape on Capital TV next week below:
Wednesday 9th October (6pm)
Thursday 10th October (9am)
Saturday 12th October (9am)
Sunday 13th October (4pm)
Lawson's brand new single 'Juliet' is available to download from 13th October. You can pre-order it here.