Lawson "So Excited" For Summertime Ball 2013 And Look Back At Last Year's Performance – Video
8 June 2013, 14:13
The 'When She Was Mine' stars look ahead to their performance this Sunday at Wembley Stadium.
Lawson have been speaking to Capitalfm.com about their nerves the first time they played Wembley Stadium last year for the Summertime Ball and revealed they are so excited to be back again.
The 'Taking Over Me' stars will make their second appearance at the iconic venue and said it was a "nerve wracking" experience first time round.
"So so excited because last year we did one song and it was the best three and a half minutes ever, but it was so quick, it was almost as if it didn't happen," said Adam Pitts.
Joel Peat added: "It was so nerve wracking. We'd done like loads of gigs before we even got signed and when we got signed we did all out own tours, you get there and think 'Yeh, Wembley Stadium, we've done a lot of gigs, we're confident, the set's polished'.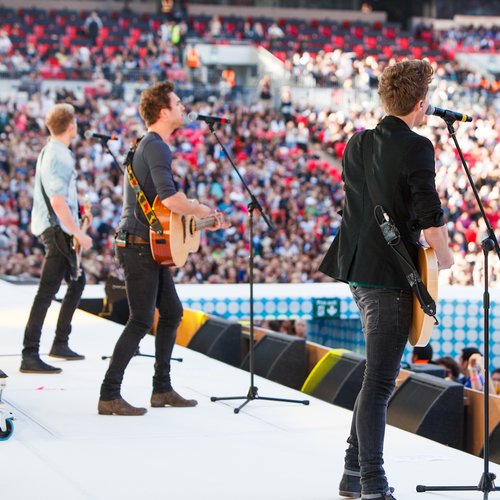 "You walk through and just see this wall of people and nothing prepares you for that."
Ryan Fletcher quipped how just a small section of the crowd was a greater size then any of their previous gigs.
"You know before you actually walk on stage, you're walking up the ramp towards the stage and you can see maybe one per cent of the crowd just from behind the stage you can see the top left hand corner – and that is bigger than any gig we've ever done," he said.
Watch Lawson speaking to Capitalfm.com about playing this year's Summertime Ball 2013 and their memories of last year below:
Other stars on the line-up for this year's event include Taylor Swift, Robbie Williams and The Wanted.
Justin Timberlake will also be appearing as the special guest host.
Keep it Capital for all the action from the Summertime Ball.

On Capitalfm.com, we're bringing you all the latest news, gossip, pictures, videos and performances from the event, and stay tuned to our live blog for the best backstage action.

On Twitter, keep it @CapitalOfficial using the hashtag #CapitalSTB and download the Capital App to watch all the live performances.