Lawson Joined By B.o.B During Summertime Ball 2013 Performance
9 June 2013, 18:43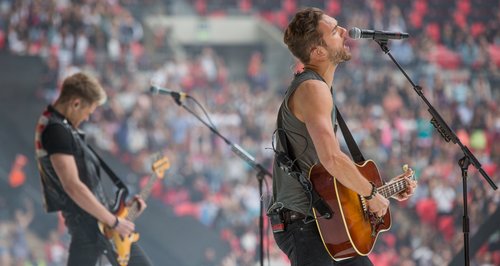 Andy, Adam, Joel and Ryan were joined by US rapper 'B.o.B' and covered Swedish House Mafia during their set.
Lawson made their second appearance at the Summertime Ball today as they performed their first full set at the event.
The four piece of Andy, Adam, Ryan and Joel hit the stage with their latest single 'Brokenhearted' as well as some previous efforts from debut album 'Chapman Square'.
Performance Review: Lawson marked their second time at the Summertime Ball with a triumphant set full of surprises. It was recent single 'Learn To Love Again' - which literally got the set off to a bang – complete with pyrotechnic explosion. "Good evening, how you all doing?" screamed Andy before a cover of 'Don't You Worry Child'. The band added a rockier edge to the dance track as the fans put their arms in the air and cheered along to sing the huge chorus of the track.
The boys kept the surprises coming as they brought US rapper B.o.B on stage for their new single 'Brokenhearted'.The band also broke into a new rendition of the rapper's hit 'Airplanes' with the band then bringing it all back into their own hit. The group then closed with smash hit 'Standing On The Dark' as they took in the final moments of their second time at Wembley Stadium.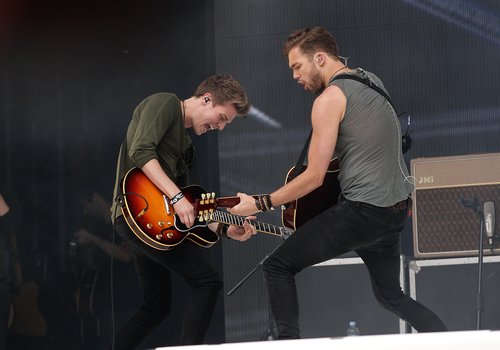 The Song When Everyone Was Fangirling: 'Standing In The Dark' - the closing number had the crowd singing along in perfect harmony.
What Were Lawson Wearing: Andy Brown was sporting a sleeveless t-shirt with black jeans, with the rest of the group following in similar attire – Ryan adding an element of leather to his outfit.
The Most OMG Moment: Lawson's arsenal of surprises kept everyone guessing and it was like Christmas, Easter and a Birthday all in one!
View From The Vine:
Setlist:

'Learn To Love Again'
'Don't You Worry Child
''Brokenhearted' feat B.o.B
'Standing In The Dark'
In A Tweet: "OMG it's B.o.B....!"

Keep it Capital for all the action from the Summertime Ball.

On Capitalfm.com, we're bringing you all the latest news, gossip, pictures, videos and performances from the event, and stay tuned to our live blog for the best backstage action.