Lawson's Music Video For New Song 'Juliet' Stars Kelly Brook: "It's Our Best Video!"
22 August 2013, 10:45 | Updated: 22 August 2013, 10:46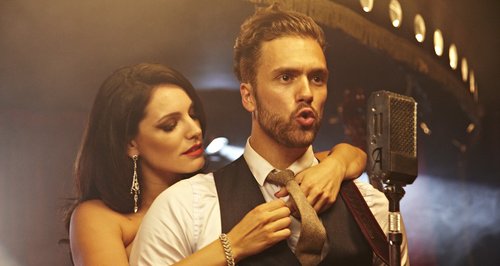 The 'Brokenhearted' four-piece star opposite the popular model in the video for their new song.
Lawson have confirmed that model Kelly Brook stars in their music video for new single 'Juliet', and have described her as "one of the most beautiful girls" in the world.
The 'Standing In The Dark' four-piece will give new song 'Juliet' its first play on Capital FM at 5.30pm today (22nd August), after announcing first details of the song this morning.
Lawson singer Andy Brown says it was great having Kelly on the set of their 'Juliet' video, which follows a 1920s gangster theme with Kelly wearing a glamorous red gown.
"She's one of the most beautiful girls in the world and so down to earth," Andy revealed to The Metro, about Kelly's cameo in the video. "We had a lot of banter throughout the day.
"I wish we could have her along in every video!" he joked. 'The video shoot was amazing, I think it's going to be our best video to date.
"Kelly was brilliant on the day and for us it was a no-brainer to have her in it," Andy added.
Check out a picture of Lawson in their new video with Kelly Brook below (Credit: Polydor):
Lawson will release new single 'Juliet' on 13th October.
Keep it Capital at 5.30pm today for thee first play of Lawson's new song 'Juliet'.
View a shot of Kelly Brook dancing next to Lawson bassist Ryan Fletcher below (Credit: Polydor):