Lawson Reveal Decision To Choose Kelly Brook For 'Juliet' Music Video
30 September 2013, 13:00
The 'Taking Over Me' stars call the model one of the "sexiest women alive" during a new interview.
Lawson have revealed they wanted to get Kelly Brook to star in the music video for their new single 'Juliet' because she is "one of the sexiest women alive".
The 'When She Was Mine' stars told the Daily Mail that Kelly was "over the moon" to be involved with the project.
"We always wanted Juliet and the girl in that video to be basically one of the sexiest women alive, and I think Kelly Brook pretty much fits that bill," said Andy Brown.
"When we asked her to do it and she said she'd love to we were over the moon. We just thought, everything about Juliet is what she could make it," he added. "When she came out in the red dress we were all like, 'Oh my God'."
Drummer Adam Pitts admitted they gave a special thanks to the stylist for Kelly's choice of outfit in the video.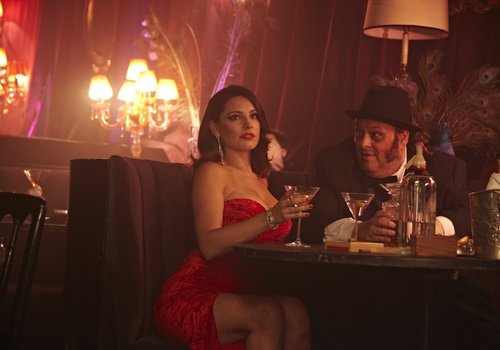 "We had to high five our stylist," he recalled. "We said thank you. He literally had to sew her into that dress. They made it for her and then he had the job of fitting her into it and we were like 'fair play mate'."
The song is taken from Lawson's forthcoming album 'Chapman Square Chapter II' and is released on 13th October.
Watch Kelly Brook in Lawson's 'Juliet' music video here.