Lawson's Andy Brown Auditions For Role On Capital TV – Video
14 December 2013, 06:00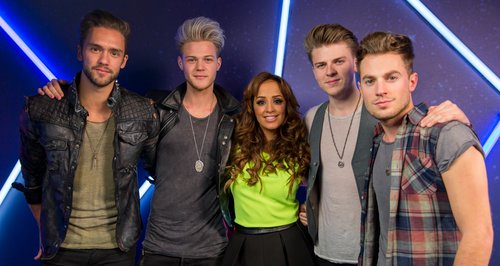 The 'When She Was Mine' star starts asking questions to his bandmates during a chat with Max backstage at the Jingle Bell Ball.
Lawson star Andy Brown was seen auditioning for Capital TV during a backstage chat with Max at the Jingle Bell Ball 2013.
The 'Juliet' stars were taking part in an interview with the Capital presenter when she offered Andy the chance to showcase his own talents.
He posed a question to bandmate Joel Peat and also joked about with Max.
Ryan Fletcher also made fun of Andy after an apparent failed attempt to woo Taylor Swift.
Lawson performed to 16,000 fans at the O2 Arena last weekend for this year's Jingle Bell Ball.
The group were on a line-up which included the likes of Lady Gaga, Katy Perry, The Vamps, Jason Derulo, Tinie Tempah and John Newman.
Listen to Max's show this Sunday (15th December) from 7pm as she looks back on the best bits of this year's huge event.