Lady Gaga Meets 86 Year-Old Fan 'Granny Gaga' During 'Artrave' World Tour
28 May 2014, 11:17 | Updated: 28 May 2014, 11:18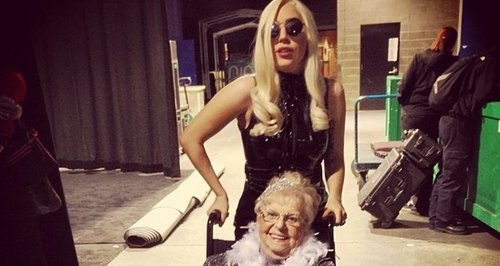 The 'G.U.Y.' star had a nice chat backstage with one of her biggest fans, an 86 year-old grandmother.
Lady Gaga got to hang out with one of her oldest, an most dedicated fans, at one of her world tour shows this week.
The 'Do What U Want star posted up a snap of herself getting to hang out backstage on the 'Artrave: The ARTPOP Ball' tour this week with 86 year-old Inez, affectionately known as Granny Gaga.
86 yrs old Inez 'Granny Gaga' from Edmonton and I. We had a lovely chat after the show, what an… http://t.co/OSXSIHoMNp

— Lady Gaga (@ladygaga) May 27, 2014
"I thought seeing her in person, hearing her, listening to her project, her voice and hearing her songs, I thought she was just a bright light in a dark world," Inez told CBC News, of her love for the 'Applause' star.
Lady Gaga is set to bring her new world tour over to the UK starting from 15th October, and just added a string of new UK tour dates.
You may also like...