Lady Gaga Previews New Song 'MANiCURE' During New iTunes Festival Rehearsal Video
30 August 2013, 08:49 | Updated: 30 August 2013, 08:51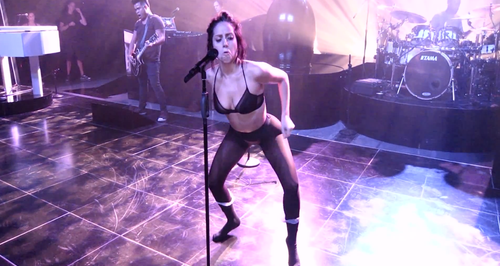 The 'Bad Romance' singer continues to tease her upcoming performance in London on Sunday.
Lady Gaga has posted a new clip from rehearsals for her upcoming iTunes Festival 2013 performance.
The new footage features the singer performing new song 'MANiCURE', which features a rockier edge to her music.
As well as posting the clip, the singer shared some of the lyrics to the track on her Twitter account.
She wrote: "PUT SOME LIPSTICK ON PERFUME YOUR NECK AND SLIP YOUR HIGH HEELS ON RINSEEE AND CURL YOUR HAIR LOOSIN' YOUR HIPS AND GET A DRESS TO WEAR
"IM THE ONE WHOSE BEEN COMIN' ROUND LOOKIN' TO LOVE-IN-YOU YOU'RE THE MEDECINE I NEED TO HEAL THE WAY YOU MAKE MEEE FEEEEEL
"HEAL ME CAUSE I'M ADDICTED TO LOVE (MAN-CURE!) SAVE ME CAUSE IM ADDICTED TO LOVE (MAN-I-CURE!)"
Check out the footage posted by Lady Gaga below:
The 'Marry The Night' singer also explained the reason for the muffled footage, saying she wants to confuse fans ahead of her Sunday (1st September) show.
"THE SOUND QUALITY OF THESE CLIPS HAS BEEN OBSTRUCTED TO GIVE YOU A TASTE OF ARTPOP BUT ULTIMATELY CONFUSE YOU UNTIL SUNDAY. #SWINEFEST," Gaga added.
Earlier this week, the 'You & I' star also posted footage performing new song 'Swine' during her rehearsals.
The iTunes Festival 2013 will also feature performances from the likes of Katy Perry, Justin Timberlake and Jessie J.