Lady Gaga Shows Off New Blonde Dreadlocks While Preparing For 'ARTPOP' Release
21 September 2013, 11:34 | Updated: 21 September 2013, 11:42
The 'Applause' singer unveiled her new look this weekend to go alongside her 'ARTPOP' theme.
Lady Gaga has chanced up her look once again by opted to return to the dreadlocks style she wore briefly during her 'Born This Way Ball' world tour, but giving it an updated 'ARTPOP' spin.
The 'Marry The Night' singer shared a string of new pictures with fans online this weekend that show her dressed up in her new trademark shell bikini, wearing a shell-type hat while having her hair bleached blonde in heavy dreadlocks.
"I was a bad girl with my seashells, Somebody steal my hot glue gun. Hide the rhinestones!" Gaga joked alongside one of the pictures.
"My fans make me so happy!" Gaga also posted, alongside a snap of her meeting up with a fan outside the recording studio this week. "She was waiting outside my studio in a pig gas mask. WHY? Because ARTPOP is coming."
Check out a picture of Lady Gaga showing off her new look below (Credit: Instagram):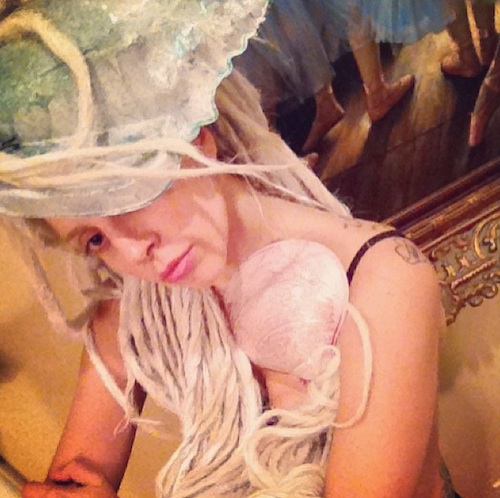 The 'Applause' singer has been opened up about what fans can expected from her new album 'ARTPOP' this week, promising them it will feel like "a night in the club" when listened to from start to finish.
View another snap of Lady Gaga with a fan this week below (Credit: Instagram):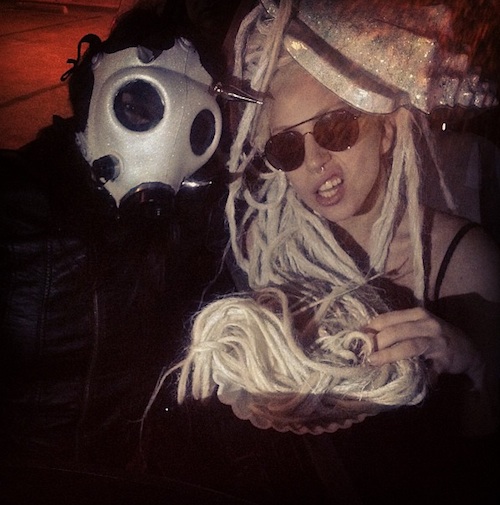 Lady Gaga releases new album 'ARTPOP' on 11th November.