"My Dirty Secret Is That I'm Responsible": Kesha On Rehab And Music Industry Pressures
11 July 2014, 11:47 | Updated: 11 July 2014, 11:53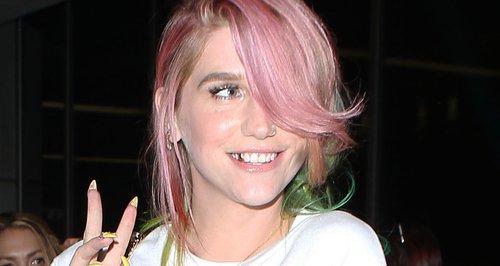 She may act up to her 'party' girl image on stage, but Kesha has opened up about the real reasons why she ended up in rehab and the pressures of the music industry.
She may look like a crazy party girl, but Kesha's REAL secret is that she is actually very responsible – who'd have thought it?
The star has opened up about the real reasons behind her stint in rehab – she checked herself in for an eating disorder – but many fans speculated that it may be something else.
Kesha addressed the rumours in a recent article in Elle, saying, "I was battling an eating disorder – but I knew people would assume I was here for other things."
"Sure, I've written songs about partying, but my dirty little secret is that I'm actually incredibly responsible. I take my music and career very seriously, and certainly didn't land in this situation from partying. But I was cut off from the outside world and I imagined people making up stories at a time when what I really needed was support."
The turning point for Kesha came when she realized that the pressure she was being out under to look slim in paparazzi photos was actually really harming her health. She said, "The music industry has set unrealistic expectations for what a body is supposed to look like, and I started becoming overly critical of my own body because of that. I felt like people were always lurking, trying to take pictures of me with the intention of putting them up online or printing them in magazines and making me look terrible."
Kesha fought back against the cookie-cutter pop star image by writing powerful anthems, like 'We R Who We R', but felt guilty that she wasn't practicing what she was preaching – while she was telling others to love themselves, she was battling with her own body image issues.
She wrote, "I felt like a liar, telling people to love themselves as they are, while I was being hateful to myself and really hurting my body. I wanted to control things that weren't in my power, but I was controlling the wrong things. I convinced myself that being sick, being skinny was part of my job. It felt safer somehow."
Kesha eventually sought help with the support of her mother, and completed two months in rehab. She said, "I knew I was ready to leave when I'd gained enough confidence to get on a plane knowing there would be paparazzi at the airport at the other end. I was right - they were there. But this time, when I saw the pictures, I felt OK. Even I need to be reminded we are who we are." We're glad you're on the mend, Kesha - you're perfect as you are!