Katy Perry Dyes Her Hair "Slime Green" Ready For New 'Birthday' Music Video
8 April 2014, 12:11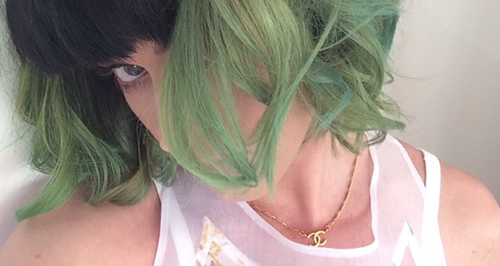 The 'Dark Horse' star has opted to change up her look as she starts filming the next 'Prism' music video.
Katy Perry unveiled a new look to fans this week after dying her hair a colour she describes as "slime green".
The 'Roar' singer revealed her newly dyed hair on Instagram which sees most of her hair a light green colour, while her fringe remains black.
"SLIME GREEN FOR SPRING by my bb's @neeenaboo & @brantmaygirled at the @mcmillansalon," Katy posted alongside the snap.
This week Katy has been on the set of her music for new single 'Birthday', the latest release from her 2013 album 'Prism'.
Katy was spotted out in Los Angeles, California on Monday (7th April) wrapped up in a red coat and beanie hat as she took a tour of the video set.
'Birthday' will be the fourth single to be released from her album 'Prism', following the success of 'Roar', 'Unconditionally' and 'Dark Horse'.
You may also like: