Katy Perry Says She "Loves" Rihanna But Her "Days Of Celebrity Saving Are Over"
30 July 2013, 10:48
The 'Hot N Cold' singer speaks about the "detrimental entourages" that surround some stars in the business.
Katy Perry has opened up on her friendship with Rihanna and said that she still "loves" the fellow female star.
The 'Firework' singer told Elle UK that she always loves bumping into the Bajan star but thinks like many other stars in the business, she has a "detrimental" entourage.
"I love her [Rihanna] and every time I see her, I'm reminded of the light that she has," she told the magazine. "There's a lot of dark in this business. I know a lot of people out there with the most detrimental entourages - they are the root of their demise.
She concluded: "It's really unfortunate but you can't save these people. My days of celebrity saving are over."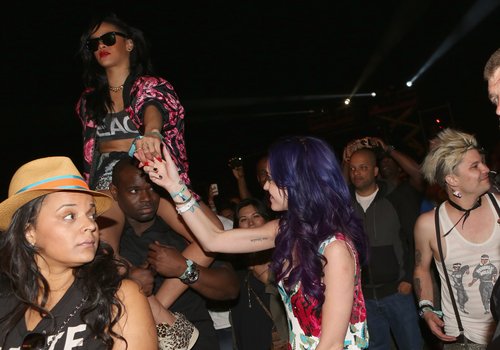 It was rumoured the pair had fell out in recent months and haven't been seen spending as much time together as they did in the past.
Meanwhile, Katy has also been busy promoting her new album this week after unleashing a giant gold truck to the streets of Los Angeles.
The vehicle contains the name and release date of the record – which is the follow-up to 2010's Teenage Dream.