Katy Perry Wows At Part Of Me 3D UK Premiere In Central London
4 July 2012, 12:44 | Updated: 4 July 2012, 13:33
The 'Wide Awake' singer's 3D movie launch in London was also attended by Lawson and Conor Maynard.
Katy Perry wowed at the UK premiere of her 3D concert film Part Of Me last night in central London.
The 'Firework' singer walked the specially-made pink carpet in London's Leicester Square on Tuesday evening (3rd July), where she spent time meeting and greeting some of her biggest UK fans outside the Empire cinema.
Katy stepped out in a baby pink tutu-style short dress, complete with bronze gold detailing, and stopped to sign autographs and pose for pictures with the fans waiting to greet her at the premiere of her documentary film.
Over the past week Katy has premiered Part Of Me 3D in Los Angeles, complete with a cinema-inspired live performance, as well as in Sydney, Australia last weekend.
Before heading out to the London premiere Katy shared a picture with fans on Twitter to show off her Union Jack style eye make-up, and admitted she "loves" the English and couldn't wait to see everyone.
Check out Katy Perry walking the pink carpet at her London film premiere this week below (Credit: Getty):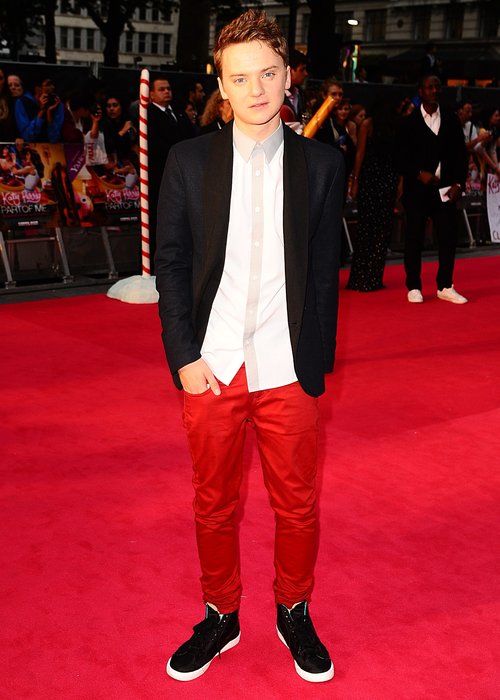 While talking to Capital at the Part Of Me premiere Katy also commented on the recent announcement that 'Rolling In The Deep' singer Adele is expecting her first child, describing the '21' star as "such a good woman" and sending her congratulations on the news.
Check out Capital's top ten scenes from Katy Perry: Part Of Me 3D in our review here.
Katy Perry's London premiere was also attended by 'Can't Say No' singer-songwriter Conor Maynard and 'When She Was Mine' band Lawson, who both tweeted about the star-studded event after.
"Katy Perry film was awesome! Was great to see everyone afterwards/before too! Nightttt!x," Lawson singer Andy Brown tweeted, while Conor simply posted: "Wow… @KatyPerry is an incredible person. #PartOfMe."
View a picture of Conor Maynard at Katy Perry's London premiere below (Credit: Getty):
Check out Capital's full gallery of the London premiere of Katy Perry: Part Of Me 3D below: