Katy Perry Teases "Hip-Hop Flavoured" New Song 'Dark Horse': "It's A Juxtaposition"
30 August 2013, 10:11 | Updated: 30 August 2013, 10:12
The 'Firework' star will release the track as her next preview of new alum 'Prism'.
Katy Perry has been speaking about her forthcoming new song 'Dark Horse' and told fans to expect more of an urban and "hip-hop falvoured" style.
The 'I Kissed A Girl' star described it as somewhat of a juxtaposition due to her pop background and spoke of lyrics which contain an element of witchcraft.
"It's kind of a juxtaposition," she told MTV News. "It's got me, a pop artist, with a little bit of an urban kind of hip-hop-flavored background soundtrack to it, and the lyrics are kind of witchy and dark, as if I was a witch warning this man not to fall in love with me, and if you do know I'm going to be your last."
The song was picked by fans ahead of another new song 'Walking On Air' through a special Pepsi campaign aimed at choosing her new release.
Katy also offered an insight into the style and inspiration of that song as well, revealing it came from watching some people roller-skating in Central Park listening to deep house music.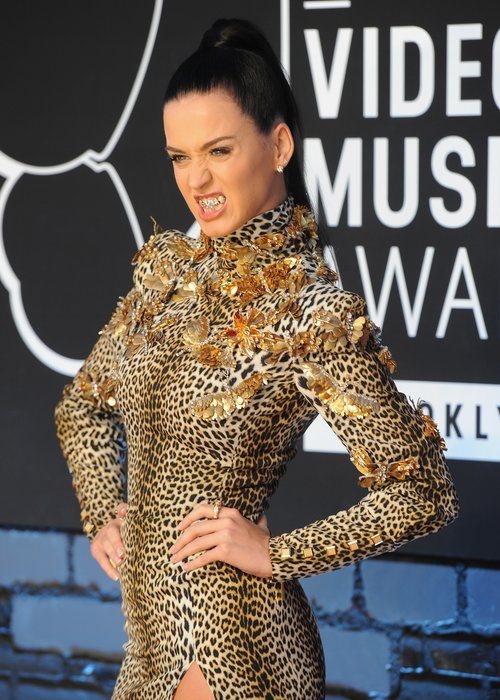 "I looked at her [a friend] and I said, 'I have to do a song like that,' " she said of the song. "I was like I really want to bring that authentic 90's deep house song styling back."
Meanwhile, Katy will be heading over to the UK next month to close this year's iTunes Festival 2013.
The star also announced today (30th August) that she will be pushing forward the release date of new single 'Roar' to Sunday 1st September.