John Mayer On Recording With Girlfriend Katy Perry: "We Were Professional"
11 December 2013, 10:45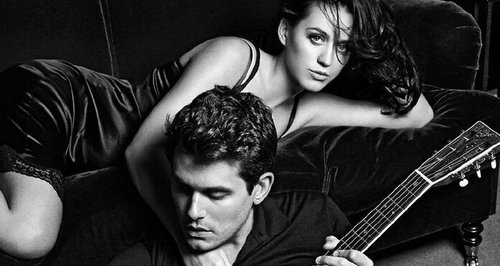 The 'Your Body Is A Wonderland' singer has opened up about the recording process for their team-up.
John Mayer has opened up about his recent Katy Perry collaboration 'Who You Love', and says the 'Roar' singer was a complete professional during the recording process.
The pair teamed up on the song for John's latest album 'Paradise Valley', after going public with their romance earlier this year.
"I had this idea that just sat around for a while and I thought, 'Maybe I'll finish it someday', and I played it for Don Was who was producing the record with me and he said, 'Get Katy to sing on it!'" John recalled to US station Z100 this week. "Now, he could say that because he doesn't have to worry about all the hang-ups that I'd have to worry about.
"She was an artist in the studio and partner out of the studio," John revealed. "It was really professional.
John went on to reveal that the two have very different working styles and don't need to give each other advice on their careers.
"We were just fine before we met each other, that's what we say, 'You were fine before I met you, you don't need my advice', and vice versa," he added.
Katy Perry performed live on Saturday 7th December for the Capital FM Jingle Bell Ball 2013, giving fans their first taste of what to expect from her 'Prismatic' tour next year.