Katy Perry Unveils 'Dark Horse' Music Video Teaser Clip Ahead Of Premiere - Watch
14 February 2014, 09:00
The 'Roar' star is seen dressed in ancient Egyptian get-up in a teaser for her third 'Prism' music video.
Katy Perry has unveiled a first look at her music video for new single 'Dark Horse'.
The 'Unconditionally' star is introduced as a magical queen called Katy Patra in the Ancient Egyptian themed teaser, before emerging in full fancy dress garb complete with a bejeweled grill..
"According the legend there was a magical queen in Memphis, Egypt," the captions read in the newly revealed teaser trailer. "Every eclipse, Kings would travel from Brooklyn to Babylon to win her heart.
"If she fell in love you'd be top dawg, if she didn't her wrath would leave you wimpering . Her name was Katy Patra," the trailer adds, before showing off Katy's full look.
'Dark Horse' features rapper Juciy J as a special guest, and follows both 'Roar' and 'Unconditionally' as the latest 'Prism' single release.
MEET THE QUEEN OF MEMPHIS (Egypt, that is): http://t.co/nXkoFXaHgn #DarkHorseVideo

— Katy Perry (@katyperry) February 13, 2014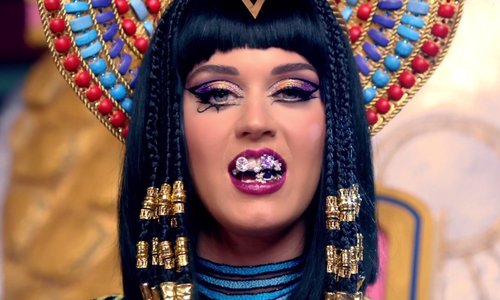 Katy Perry is expected to unveil her 'Dark Horse' music video on 20th February, one day after playing the BRIT Awards 2014.