Katy Perry Confirms She's Filmed A Carpool Karaoke & Is 'Ready For This Ride'
4 May 2017, 10:56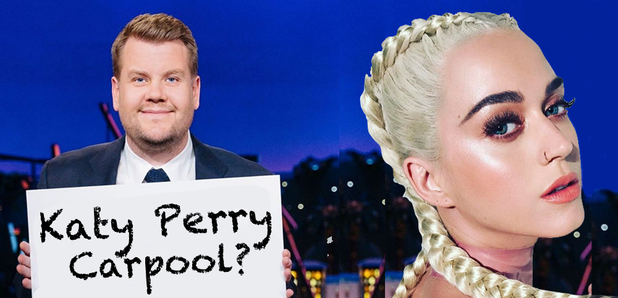 Which songs will she belt out alongside James Corden then?
Yes, the news we've all been waiting for has finally been confirmed - Katy Perry will be starring in her own Carpool Karaoke alongside James Corden. Katycats go crazy........now!
With so many classic hits, such as 'I Kissed A Girl', 'Dark Horse' and 'Firework', we really wanna know which ones KT and JC will be nailing as they drive around loving life.
The news was confirmed by The Late Late Show With James Corden on Twitter, where they revealed that Monday 22nd May was the date all Katy Perry fans needed to add to their diaries...
Carpool Karaoke with @KatyPerry is coming Monday, May 22! Get all the #KatyCarpool deets here: https://t.co/5ZJolmx3lN pic.twitter.com/RKNTaTzDMv

— The Late Late Show (@latelateshow) May 3, 2017
Following the announcement, Katy tweeted, claiming she was 'ready for this ride'...
READY FOR THIS RIDE(insert vine:I'm in me mum's car broom broom) https://t.co/J7SHwAA3fI

— Katy Perry (@katyperry) May 3, 2017
Needless to say, fans of the superstar singer went wild when they found out the news and some reactions were absolutely priceless...
@katyperry YESSSSSSS IM READY TO RIDE THIS RIDE WITH YOU

— Claudia (@katykicksass) May 3, 2017
@katyperry THIS MOMENT IS OUR MOMENT

— rafaela (@katymyhaven) May 3, 2017
@katyperry You better slay us

— Keiti perri xdd (@keitiperrixdd) May 3, 2017
@katyperry MY BODY IS READY

— maria (@katyhudsun) May 3, 2017
@katyperry Real question: can I sit in the back seat please

— Kelly (@kelkelperry) May 3, 2017
So Corden & Parry are finally hitting the Carpool Karaoke together...we are SO. READY. FOR. THIS.
You may also like...