Katy Perry Leads Pop Star Cameos In Bonnie McKee's New Song 'American Girl' - Video
27 June 2013, 13:20
The likes of Carly Rae Jepsen, Macklemore and Jason Derulo also show up for the hit-maker's first single.
Katy Perry, Ke$ha and Nicole Scherzinger are just some of the many pop stars to make an appearance in the video for the first single from prolific US songwriter Bonnie McKee.
The 29 year-old has penned some of the biggest songs of the past ten years for acts ranging from Britney Spears to Kelly Clarkson, and most notably worked alongside Katy Perry on her biggest hits like 'Teenage Dream' and 'California Gurls'.
Bonnie is now striking out on her own with debut single 'American Girl', and 'Part Of Me' singer Katy is just one of a large number of stars who cameo in the newly unveiled music video.
Katy opens the video for 'American Girl' while miming the song's lyrics from her bed, before stars like Adam Lambert, Taio Cruz, Jason Derulo, Macklemore and Carly Rae Jepsen all make appearances.
Check out a picture of Katy Perry in the video for 'American Girl' below: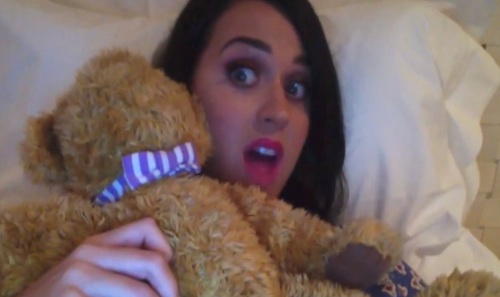 As well as a number of pop star cameos, the likes of Joan Rivers, Glee star Jane Lynch and comedian Kathy Griffin all show up for scenes throughout the new promo.
Watch Bonnie McKee's cameo-filled music video for 'American Girl' below: