Will Ferrell Reveals Kanye West Played 'Yeezus' To Anchorman 2 Cast Ahead Of Release
16 December 2013, 12:31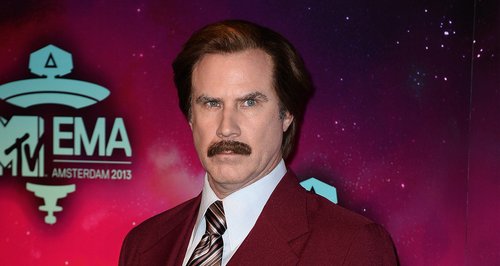 The comedian jokes that Kanye wouldn't leave the film set after shooting scenes for his cameo in the sequel.
Will Ferrell has revealed that Kanye West gave the cast of Anchorman 2 an exclusive preview of his album 'Yeezus' earlier this year, while also joking that the US rapper wouldn't leave the set after he was done filming is cameo.
The US comedian, who portrays lead character Ron Burgundy in the comedy sequel, says it was "surreal" to have the 'All Of The Lights' rapper on the set of the upcoming film.
"It was very surreal to have Kanye, who's such a big fan of comedy, in our movie hanging out for two days," Will reveals on The Jonathan Ross Show. "He was playing the new tracks a lot, over and over.
"Even when you're trying to film, he's playing the tracks!" Will joked. "We got a scared 18 year-old intern to ask him to turn them down."
Will went on to joke that Kanye even tried to hang around with the cast after he was done shooting his cameo in the sequel to Anchorman.
"He hung out, even after we said, 'You're done!' He was like, 'no, no' and stayed in the background, hanging out and fighting with people," Will added.
Anchorman 2 is set to launch in cinemas from 20th December this year.