WATCH: Kanye West's Oxford University Speech/Rant Is Out… Our Eight FAVE Quotes!
10 December 2015, 15:49 | Updated: 10 December 2015, 15:51
Kanye West speaks to the Oxford Guild
41:04
"I can literally hear a whisper…" SO MANY QUOTES!
Back in March this year Kanye West featured as a guest speaker at Oxford University for a few very, VERY lucky students and until know we'd only heard tidbits about what pearls of wisdom Yeezy had imparted on the next generation.
But wonder no longer… because some amazing person (thanks!) filmed the whole 40 minute speech (he was only supposed to talk for 20!) and posted it online this week, giving us ENDLESS Kanye quotes to use and live our lives by. Well, maybe…
Check out our MOST memorable quotes from Kanye's Oxford University speech below. Some of them will blow your minds…
Woah… does Kanye West have superpowers?
"Everyone please be completely quiet, because I can literally hear a whisper and it'll throw off my stream of conscious. The best thing is when I can get my stream of consciousness going that's when I give the best, illest quotes, Literally, a whisper can throw it off."
Kanye > Picasso
"My goal, if I was going to do art, fine art, would have been to become Picasso or greater. That always sounds so funny to people, comparing yourself to someone in the past that has done so much, and in your life you're not allowed to even think that you can do as much. That's a mentality that suppresses humanity."
A slightly over-the-top Matrix analogy…
"What I said was The Matrix is like the Bible of the post information age."
Kanye West kinda doesn't know his days of the week…
"For two months, my team - by the way I don't know the days of the week. I just go to exactly when my appointment is, we'd just look at each and say, it's still February."
We're ALL part of the Kardashian-West family. YAY!
"People say it takes a village to raise a child. People ask me how my daughter is doing. She's only doing good if your daughter's doing good. We're all one family. Like, literally, last names aside, we're all one family, and we have the ability to approach our race like ants, or we have the ability to approach our race like crabs."
Kanye's still super sassy…
"They need to do awards show for the Nobel Peace Prize, but I guess that doesn't sell as many MasterCard commercials."
He's got a LOT of respect for Nicki Minaj
"One of the most memorable things about 'My Beautiful Dark Twisted Fantasy' was Nicki Minaj and the fact that she kicked my ass on my song, on one of the best albums, the best album - I'm just saying what the critics said - of the past 25 years."
He's WELL aware of his fatal flaw… yeah, that one!
"One of my biggest problems, one of my biggest Achille's Heels has been my ego. And if I, Kanye West, the very person, can remove my ego, I think there's hope for everyone."
He don't give a damn about his bad reputation!
"People say I have a bad reputation. I think I've got the best reputation in the building. Because they want you to have a reputation of tucking your black nail polish in your pockets and sitting in the corner of the class, and not fighting for your ideas out of fear of being ridiculed. Someone not liking your thoughts, being embarrassed, being talked about the next day, not being accepted, being an outside. Being crazy. That's another one of my favourite ones, to be called crazy."
Consider yourself schooled - KANYE WEST STYLE!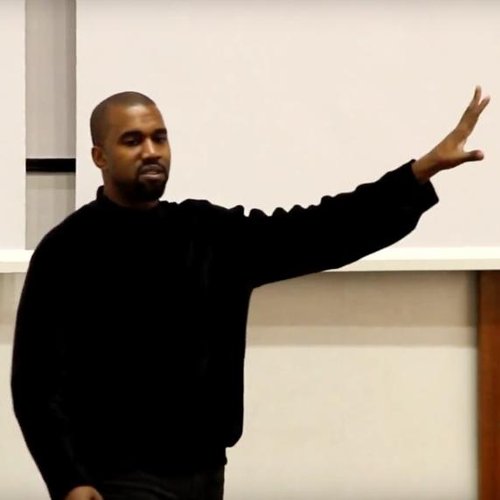 You may also like...