Turns Out That Baby North Is A BIG Fan Of Daddy Kanye West's Music!
28 October 2014, 12:23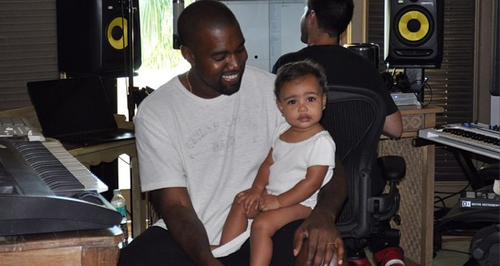 North West is probably Kanye West's youngest ever fan, after mum Kim Kardashian admitted that she plays his music to the 15-month-old
A baby belonging to rapper Kanye West and Kim Kardashian was never going to have a totally conventional upbringing – how many 15-month-olds can say they have already sat on the FROW at Paris Fashion Week and have a wardrobe full of Givenchy? – but even North's musical tastes are developing early.
Kim Kardashian revealed in a recent interview that as well as the bog standard lullabies, baby North loves to listen to a bit of Daddy's music too.
Kim confessed, "I put on these lullabies for her. I put on pop music, Kanye's music. I have a whole iPod with everything all set up for her."
"Every day, from when we wake up, there's music on. When we're playing, when we go on our walk, every day there's music on. I have a little Beats speaker, so we listen to music loud on our walks."
And as well as having a musical taste far more mature than most kids her age, North doesn't dress like the average toddler either.
Kim explained that she doesn't like dressing her daughter up in clothes that are too girly. Kim said, "She's not that girly, I don't really like pinks and your typical girly colours."
"I like a neutral palette for her and with Kayne the same. I'm not big on loud or over-the-top colours. I love when she wears greens and reds and blush, just different colours of blue and creams."
Well she always looks super cute!
You May Also Like…