Ultimate Perfectionist Kanye West Took FOUR Days To Choose The Perfect Wedding Picture
18 June 2014, 10:44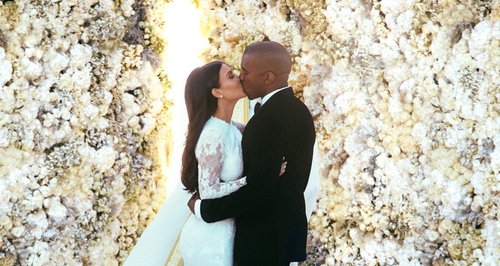 Kanye West is notoriously picky about how he likes things to be done, and choosing his favourite wedding picture is no exception…
Kanye West has revealed that it took him FOUR WHOLE DAYS to choose the perfect picture from his recent wedding to Kim Kardashian – we can't say we are too shocked that he wanted to get it just right, knowing our Kanye…
The couple had planned to hire legendary snapper Annie Leibovitz to document their big day, but she pulled out the day before the wedding. We can't imagine that there was a shortage of willing photographers queuing up for the honour of photographing the biggest celebrity wedding of the year though.
Kanye, speaking at the Cannes Lions festival, explained "I think she was scared of the idea of celebrity,but because Annie pulled out, I was like, 'I still want my wedding photos to look like Annie Leibovitz's photos' and we sat there and worked on that photo for four days -- because the flowers were off-color and stuff like that."
Well, Kanye's perfectionism definitely paid off – the Kimye wedding photo is the most liked photo on Instagram with over 2.29 million followers voicing their approval.
Kanye said, "Can you imagine telling someone who wants to just Instagram a photo, who's the number one person on Instagram, 'We need to work on the color of the flower wall,' or the idea that it's a Givenchy dress, and it's not about the name Givenchy, it's about the talent that is Riccardo Tisci - and how important Kim is to the internet?"
We're not sure what Kanye is on about most of the time but we do know it is a pretty brilliant photo. Even if it was four whole days in the making.
The Countdown To The #CapitalSTB Is ON!
You may also like...