Kanye West 24/7
U.S rapper Kanye West has splashed out $180,000 on a diamond-studded watch to celebrate the success of his current album.
If reeling in his own success wasn't enough the watch comes complete with an image of his own face!

The 18-karat gold watch was produced by Turet and is decorated with over eight karats of yellow, black, brown and white diamonds to depict his likeness on the dial.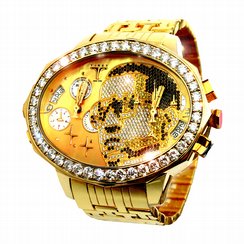 Let us know your thoughts below..