Kanye West Headlines Glastonbury With A Killer Set – & Gets Stage Invaded By Lee Nelson
29 June 2015, 11:11 | Updated: 29 June 2015, 13:37
Kanye West Interrupted At Glastonbury 2015 Guy (Lee Nelson) Runs On Stage invader Glastonbury 2015
01:29
Kanye's headline set at Glasto was ALWAYS going to be a talking point – but the most divisive headliner ever managed to get stage invaded by comic Lee Nelson.
From the moment Kanye West was announced as a headliner for Glastonbury, his performance attracted controversy – but no one expected it to pan out quite like it did…
From the 130,000 strong petition against him headlining, all anyone could talk about ahead of Glasto was what Kanye might pull out of the bag for his performance – and it went down in true Kanye style.
Kanye took to the stage solo with some simple white lights hovering low above his head at the start – until he complained "If I want to jump on this song I might hit my f**king head" as he opened his set with 'Stronger'.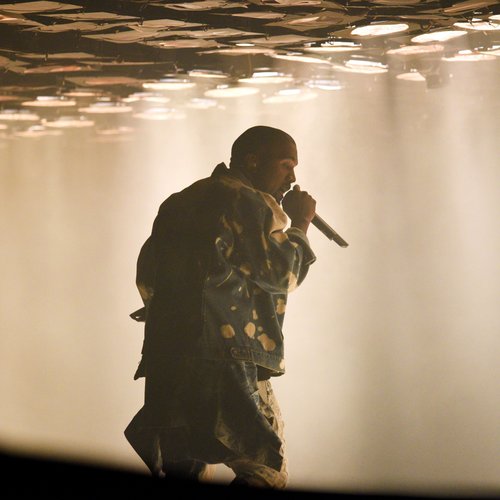 Yeezy definitely turned the crowd around and had them singing along with him – and even managed to style out a stage invasion from the comic Lee Nelson wearing a Lee-Zus t-shirt who was swiftly bundled off the stage by a security guard during 'Black Skinhead'.
I Kanye'd Kanye. That was for you @taylorswift13 #Leezus pic.twitter.com/EQJtZUJqhS

— Lee Nelson (@RealLeeNelson) June 28, 2015
Kanye was joined by Justin Vernon of Bon Iver who he called "one of the baddest white boys on the planet" for part of his set, and flew over the crowd in a cherry picker for 'Touch The Sky' and 'All Of The Lights' and told the crowd they were watching "the greatest rock star on the planet". Modest as ever, eh Yeezy?
Whether you loved it or hated it, one thing is for certain – Kanye's headline set was definitely unforgettable!