Yes, Kim Kardashian DID Hire Out The Entire Staples Center For Kanye West's Birthday
9 June 2015, 11:03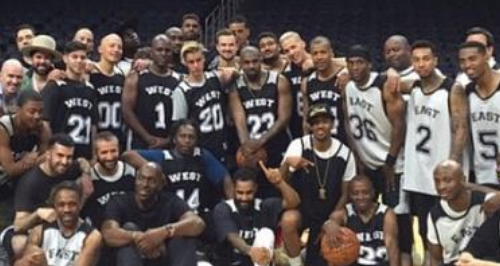 Well, of course Kanye's bday would consist of a private game with his favourite LA Lakers players… and Justin Bieber.
We'd love to live a day in the life of Kanye West. The rapper has just had the craziest birthday party OF ALL TIME – Kim Kardashian hired out the ACTUAL STAPLES CENTER for him to play basketball with a bunch of NBA players. Casual.
Kanye turned 38 last night, and Kim lead him blindfolded to the Staples Center in LA where she had hired out the entire 20,000 capacity venue – home of the LA Lakers – for his birthday shindig.
Kanye was joined by a host of his favourite NBA players for a game, as well as Justin Bieber and John Legend who sang to the birthday boy. She'd even sorted shirts for the players so Kanye was leading up team 'West' (obvs) and the other team was 'East'. Cute!
Khloe Kardashian posted about the birthday on Instagram:
Kim also posted a snap of Yeezy on his way to his surprise party with a blindfold on:
As well as putting on his ridiculous party, the Kardashians took to Twitter to wish Kanye a happy birthday:
Happy Birthday 2my best friend in the entire world! U R the most amazing husband &dad! U inspire me every single day pic.twitter.com/XbsHW1RpFv

— Kim Kardashian West (@KimKardashian) June 8, 2015
Well, Kimye don't do small birthday celebrations – but what on EARTH can they pull out of the bag for Kanye's 40th now?!