Justin Bieber Returns To Recording Studio Alongside Rapper T.I.
11 February 2014, 11:07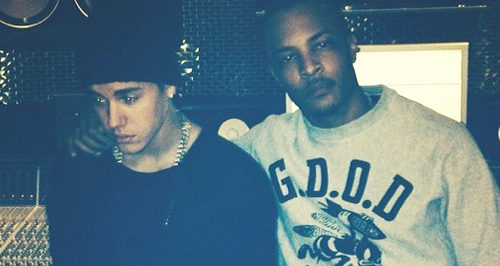 The 'Confident' star is back recording new music alongside some special guests.
Justin Bieber has been pictured back in the recording studio seemingly working on a team-up with US rapper T.I.
The 'All That Matters' star has started working on new music this year, after being spotted in the studio with T-Pain recently, and has now been pictured alongside 'Life Your Life' rapper T.I.
In the studio with TI http://t.co/YjfAY4b6c8

— Justin Bieber (@justinbieber) February 9, 2014
Check out a picture of Justin Bieber and T.I. in the recording studio together below (Credit: Instagram):
Justin released his digital-only album 'Journals' at the end of 2013 after steadily releasing new music for the past several months, giving the album a limited release across iTunes.
The Canadian superstar is now believed to have started work on his official follow-up to 2012's 'Believe'.