New Bromance Alert! Seth Rogen & Justin Bieber Hug It Out And Put THAT Feud Behind Them!
12 November 2015, 13:42
Seth Rogen's Beef with Bieber
03:16
OK not going to lie, this moment is kinda beautiful...
Naww… we have a new bromance on the cards, guys! Justin Bieber and Seth Rogen have officially ended their beef, sealing their friendship with an adorable #ManHug!
The pair famously fell out in January last year after Bad Neighbours star Seth was *ahem* less than nice about Justin on Twitter, but in an appearance on The Ellen Show they've put it behind them!
It started with Seth basically admitting he was completely in the wrong and that he met Biebs backstage on the show and made peace with the 'What Do You Mean' star. Props to you, Mr. Rogen!
We had a beef I guess you would say. It's not really a beef I just called him some really mean things on social media for no real reason," he revealed to Ellen. "I'd only met him very briefly, I can't tell you why I did it.
"I was inclined to do it in that moment and then I did it,' he recalled. "And then it really hurt his feelings as it should have and a lot of people got very mad at me.
"All this time I had only met him once very briefly and it was honestly a very pleasant interaction!
"And I met him today in the hallway of your show and I guess we made up. It's all my fault! It's all just because I decided to be mean one day."
Then Justin himself rocked up on the show (in a Seth Rogen mask, obvs) and the two hugged it out in a truly BEAUTIFUL moment.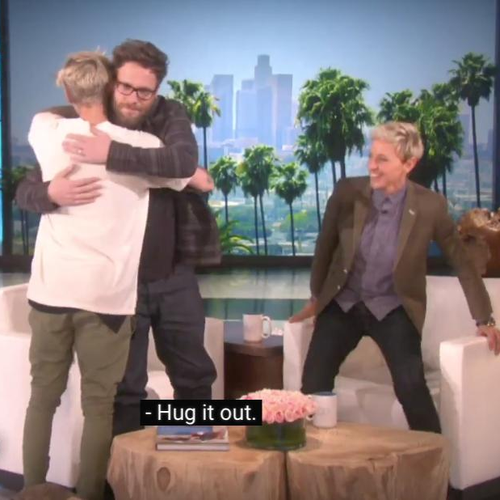 We have a new celeb bromance on the cards, people!
You may also like...