WATCH: Teen Girl Asks Justin Bieber For A Hug & His Response Is Absolutely Savage!
19 July 2016, 13:10 | Updated: 27 April 2017, 14:50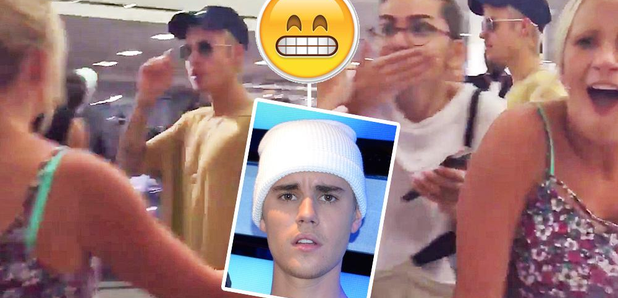 Y'all know Justin no longer wants us asking him for photos right? Well it seems we can't ask for hugs now either.
Whilst out shopping in NYC, a girl can be seen approaching him whilst her mate films. She approaches him with open arms, only for him to absolutely shut her down with a solid 'NO.'
Gahhhhhhhh. It's kinda hilarious yet really bloody awkward.
fan: "can i have a hug?"

Justin Bieber: "no" #savage pic.twitter.com/J9dqifwyYx

— 7 GOD (@iiBreakNecks) July 18, 2016
Now tbf to Justin, he might have been in a rush or whatever and just really not in the mood for 'all of that.' Especially if you stop and chat to one person, who knows what might have happened in the shop.
Plus the girl seemed to be laughing and sniggering, more focussed on the fact it was being filmed, as opposed to the fact she was about to actually meet the Biebs - something he's mentioned a dislike of in the past - so called, 'fake fans.'
On the other hand, just think how awkward that girl must have felt!
Imagine having your arms out towards Justin Bieber, asking him for a hug, and he rejects you lmao the embarrassment.

— X (@RuqaiyyahK) July 18, 2016
It turns out that Justin doesn't need anyone but himself for hugs.
You May Also Like...