Justin Bieber's Little Brother Jaxon Stole The Show (And Our Hearts) At The Grammys 2016
16 February 2016, 09:39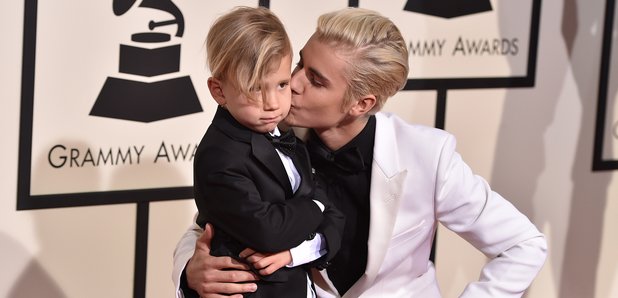 OUR HEARTS. We're obsessed with Justin's adorable little bro – and so is the entire Internet.
It's official, Justin Bieber is no longer our favourite Bieber. Yep, the crown has officially been stolen by his little brother Jaxon, who was his ADORABLE plus one for last night's GRAMMY Awards after watching their cute AF display on the red carpet.
Justin brought his little bro with him on the red carpet at the GRAMMY Awards, where the little guy pulled his best serious poses, crossing his arms for the cameras as his big bro gave him kisses on the cheek - and OUR HEARTS COULDN'T COPE.
Jaxon is so cute pic.twitter.com/OoEQQzF2Fq

— Shekinah (@bieberkiIam) February 16, 2016
Proving he's got just as much star quality as his superstar big brother, Jaxon was all anyone could talk about from last night's event. Of course, Justin also shared some ridiculously sweet pictures on his Instagram too, as he's a big fan of a selfie with his brother.
Even when it all seemed to get a bit overwhelming for little Jaxon, Justin was there to make him feel more comfortable in front of the crowds and the waiting photographers, and was basically big brother #GOALS right there.
JUSTIN LOVES JAXON SO MUCH IM CRYING pic.twitter.com/Qbc6lZVZN2

— GRAMMY BIEBER (@lordspurpose) February 16, 2016
Needless to say, you guys were squealing about this just as much as we were (and we TOTALLY understand):
JUSTIN BROUGHT JAXON WITH HIM MY HEART

— ree (@jadesproblem) February 16, 2016
Did anyone else die watching Justin and Jaxon on the red carpet?!?! @justinbieber @JeremyBieber @TheGRAMMYs #Grammys2016

— Megan Small (@MeganSmall2002) February 16, 2016
JAXON WAS SOOOO CUTE AT THE #GRAMMYs!

— Cecilie Marie (@LukesgirlDK) February 16, 2016
the most fly/handsome looking 6 year old in Gramm history bro; Jaxon Bieber

— ˗ˏˋ cece ˊˎ˗ (@ashtunsidiot) February 16, 2016
BUT JUSTIN AND JAXON MATCHING OUTFITS WAS ADORABLE

— (@BeliebersEmpire) February 16, 2016
Justin and Jaxon were so adorable on the red carpet tonight perfect moment for me #GRAMMYs

— Lauren H (@MissL4ever) February 16, 2016
HE HAS ONLY EYES FOR JAXON

IT'S SO CUTE pic.twitter.com/SUxHSdS8QW

— Capucine (@Selly_Kidrauhl) February 16, 2016
JB TRYING TO MAKE JAXON COMFORTABLE WHILE WALKING IN THE RED CARPET IS THE CUTE EVER

— monique (@deluxecurt) February 16, 2016
The fact that Justin took Jaxon may just be the cutest thing ever

— justin (@haylsbiebs) February 16, 2016
Yep, this has pretty much confirmed that we will NOT be able to cope when Justin eventually has kids of his own. If this is how flipping ADORABLE he is with his little bro, imagine him with a baby. We're off to cry a little.