"I Have Let My Insecurities Get The Best Of Me" - Justin Bieber Breaks Silence After Cancelling Tour
3 August 2017, 09:53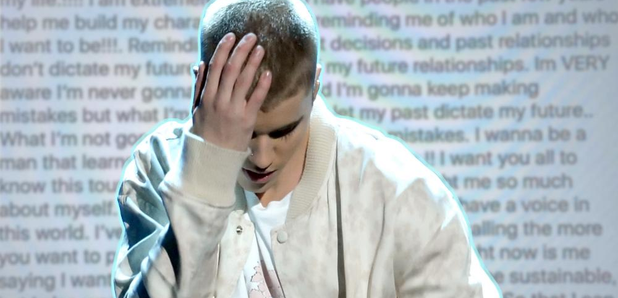 His manager has said something. Has fans have said something. Now, it's Justin's time.
The 'Sorry' singer only had another 14 dates left of his Purpose Tour, but Justin cancelled the remaining performances - which were to take place in the likes of Texas, Colorado and New Jersey.
He has now responded to these "unforeseen circumstances" with a lengthy messages, apologising from the bottom of his heart, to his 90.4 million followers on Instagram.
> Louis Tomlinson Shares His True Feelings About Justin Bieber Cancelling His Tour Dates & Fans Are Split
The heartfelt message seems to have taken Biebs a long time to type, and opens with "Im so grateful for this journey with all of you.. Im grateful for the tours but most of all I am grateful i get to go through this life WITH YOU.! [sic]"
He went on to apologise about allowing his life affect the way he treated others - from broken relationships to jealousy "running his life". Throughout the message, he stated he wanted to take some time out, so he could continue; "Me taking this time right now is me saying I want to be sustainable" said Bieber.
"I want my career to be sustainable, but I also want my mind, heart and soul to be sustainable.
"So that I can be the man I want to be, the husband I eventually want to be and the father I want to be," continued the 23-year-old.
> Download Our App, And We'll Keep You In The Loop With Exactly What's Going On With Bieber 24/7!
He then ended his message with a lesson in grammar and a touching message, saying "THIS MESSAGE IS IS VERY GRAMMATICALLY INCORRECT BUT ITS FROM THE HEART. BUT I THINK THERES SOMETHING SPECIAL ABOUT IMPERFECTIONS!!"
Justin, you've gotta do you, and we're here for it. <3 <3 <3
This is the moment when Justin Bieber broke down on stage during #OneLoveManchester...