Justin Bieber's Gas Mask Explained: "It's A Joke To Throw Off The Paparazzi"
11 March 2013, 10:57 | Updated: 27 March 2017, 16:31
The 'Boyfriend' singer was spotted in the UK wearing the disguise on numerous occasions this past week.
Justin Bieber's gas mask has been revealed to be nothing more than a "joke" between his friends and is used as a way to throw off paparazzi.
The 'As Long As You Love Me' singer had been seen in the capital on a number of occasions sporting the accessory – with many questioning the purpose of the attire.
"The gas mask Justin has been wearing around London is a joke between his friends, but people are starting to take it seriously," a source has revealed to Us weekly. "Justin's close friend Julian Keyz (a young songwriter/producer also known as Julkeys) also wears it to pretend he's Justin and throw people off as they're the same height."
The insider added: "All his friends take turns wearing it as a joke to throw off the paparazzi. It's not a serious thing, they're just having fun around London with it."
The Canadian star hit the headlines on many occasions during his time in London, including for arriving on stage two hours late for his first 'Believe' tour date at the O2 Arena.
Check out a picture of Justin wearing his gas mask in London below: (Picture: Splash)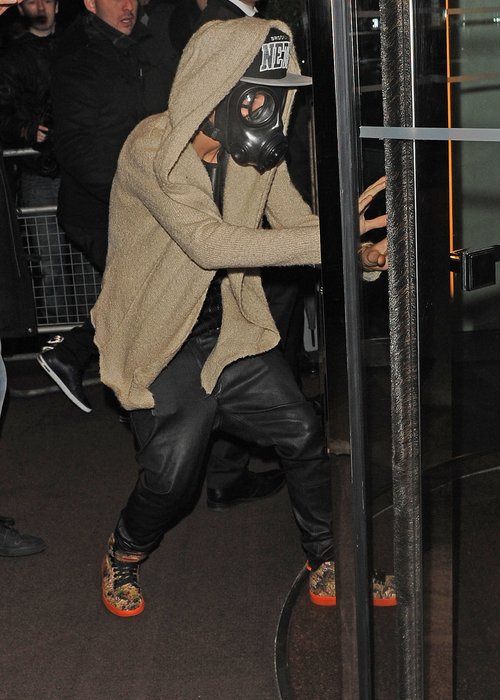 He was also involved in an altercation with photographers outside his hotel and was hospitalised with breathing difficulties following another performance.
Justin has also since cancelled a performance in Portugal due to "unforeseen circumstances" and vowed that he will be returning to the UK again despite newspaper reports suggesting otherwise.
[[ This video has been removed ]]