OMG. This Fan Loses NO Cool When Bieber Asks Her To Redo His Hair LIVE On Stage. HOW?!
21 March 2016, 14:39 | Updated: 21 March 2016, 14:58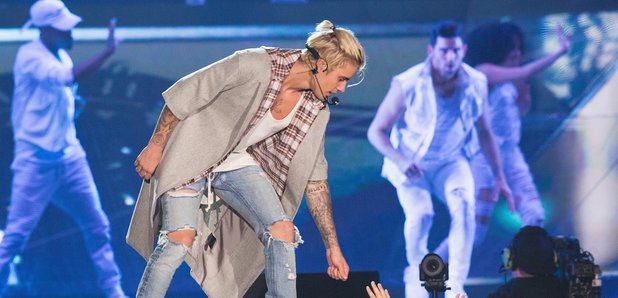 For most, even coming in close proximity of him would be mind blowing so imagine how it would feel to have to redo Justin Bieber's hair on stage. This fan did JUST that, but stayed SO calm.
It's the dream of many Justin Bieber fans worldwide – to meet the superstar himself.
It FINALLY came true for a dedicated concertgoer in California who was invited to go up onto the stage with the popstar to…. REDO HIS HAIR.
As if he couldn't afford a real hairdresser, Justin made sure to interact with his fans, up close and personal, during his show in San Jose.
In what appeared to be an impromptu decision from the popstar, the moment happened in front of a live audience on one of his many 'Purpose' world tour stops.
Once the fan was done creating her *masterpiece*, Biebs proceed to joke around with her by saying "I feel like it's a side ponytail". Maybe don't take up hairstyling as a living, babes.
He then hugged the fan and sent her on her way back in the audience.
a fan doing Justin's hair at a concert last night, this is goals omg pic.twitter.com/wNMCFqoA0J

— BDAY GIRL (@badlandsbiebs) March 18, 2016
CAN YOU IMAGINE?! Mind. Blown.
With 114 dates world wide, we're sure that Justin has many more things up his sleeve. On his opening night, he bounced on a trampoline to 'Company' and got drenched in water… 'Singing In The Rain' style, so we are SO excited to see what's coming next.
And with a set list like this, it's no surprise that his fans are going ABSOLUTELY MENTAL… Just LOOK at all those classics:
'Mark My Words'
'Where Are Ü Now'
'I'll Show You'
'The Feeling'
'Get Used to It'
'Love Yourself'
'Insecurities'
'Home to Mama'
'Been You'
'Company'
'No Sense'
'Boyfriend'
'Hold Tight'
'No Pressure'
'As Long As You Love Me'
'Children'
'Life is Worth Living'
'What Do You Mean?'
'Baby'
'Purpose'
'Sorry'
You May Also Like...