Justin Bieber Is Shooting A Movie With David Hasselhoff. Yes, Really…
25 September 2014, 10:37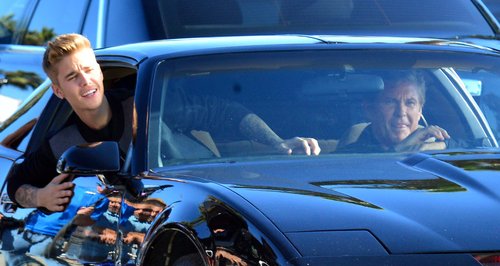 It's not a celebrity pairing we would usually put together, but Justin Bieber and David Hasselhoff have been filming together for a new movie.
Justin Bieber and… David Hasselhoff? Yep, it's really happening! The pair have teamed up together for a new movie.
Justin Bieber was snapped on set with the Hoff as they filmed scenes for 'Celebrity Death List'. Sounds worrying!
The pair were seen in David's 'Knight Rider' car, Kitt as they filmed on Venice Beach in Los Angeles.
According to The Sun, the film sees David at a Baywatch themed signing before things go wrong and he jumps in Kitt with Biebs by his side.
And it seems the pair of them also got on pretty well on set as David revealed, "We had a lot of fun and he's a cool guy."
Who's excited to see the outcome?!
You May Also Like…