Angry Parents Leave Justin "Thiever" Banners Outside Singer's London Hotel
7 March 2013, 09:24
The 'One Time' star's recent late showing at the O2 Arena continues to cause outrage.
Justin Bieber's late showing at London's O2 Arena on Monday night (4th March) has continued to cause upset among parents of children who were in attendance, with some leaving banners outside his hotel in the capital.
The 'As Long As You Love Me' teen star was two hours late to the stage, with many fans forced to leave early to catch public transport.
One message displayed outside the teen star's hotel, captured by The Sun, claimed the Canadian had "broke my daughter's heart" and signed off as "Non Belieber".
The teen issued an apology to those affected by his late showing the following day citing "technical issues" for the delay.
He also took to Twitter last night (7th March) to hit out at "rumours rumours rumours" surrounding his private life and the claims he was fined £300,000 for overinning a curfew at the venue.
The publication also reports that he stayed out partying till 4.30am last night in an attempt to avoid any confrontations with families who had waited to speak to him.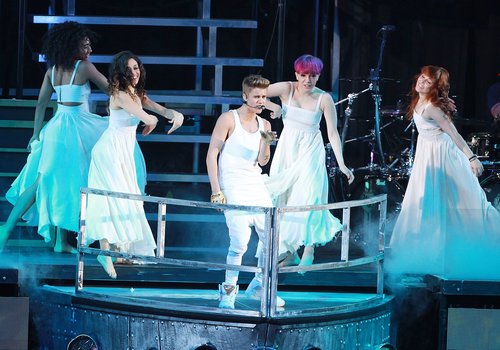 The second night of the residency went without a hitch, as the singer arrived on stage early.
He will play a further two shows at London's O2 Arena tonight and tomorrow before heading around Europe on the 'Believe' tour.