WATCH: Justin Bieber Can Eat A Burrito. Viral Photo Was An Elaborate Prank.
29 October 2018, 07:05 | Updated: 29 October 2018, 07:08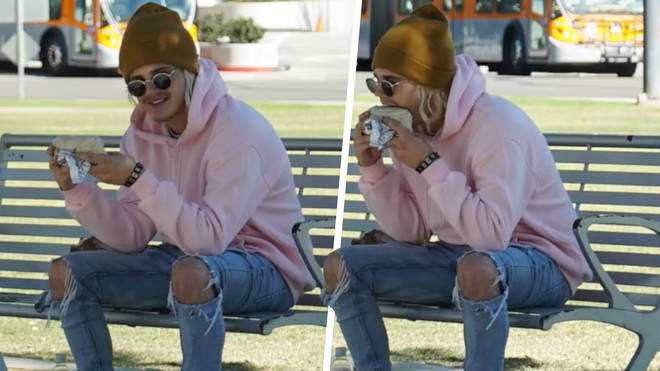 The viral photo of Justin Bieber wrongly eating a burrito was, in fact, a prank by YouTubers, Yes Theory.
Recently, a photo surface of 'Sorry' singer, Justin Bieber, eating a burrito sideways which confused and angered the world of Twitter.
However, it turns out that he does, in fact, know how to eat Mexican cuisine, as the photo was all an elaborate prank by Yes Theory.
> Justin Bieber Serenades Hailey Baldwin Outside Buckingham Palace
The pranksters hired Bieber-lookalike, Brad Sousa to star as the Canadian singer, and to prank millions of confused fans.
Yes Theory wanted to make a point, saying "Staging a story, as goofy as it was, can be done much more easily than most people can imagine." Well, you don't get much goofier than eating a burrito from the middle, like a total savage.
Scooter Braun, Justin Bieber's talent manager, contacted Yes Theory, saying that he was well aware of the prank, saying "You can't prank a prankster, bro". He was well aware that it was fake, as he knew what Justin looks like, and within 30 seconds of pretending to fall for the prank, he was contacted by Yes Theory's manager.
> Want Tickets To Capital's Jingle Bell Ball Before Anyone Else? Download Our App Now To Access Pre-Sale!
Let's all breathe a sigh of relief knowing Justin Bieber can eat a burrito properly.