WATCH: We've Got Jax Jones To Make A Dope House Mix Using YOUR Sound FX, Including Burps And Loo Flushes
14 September 2017, 08:31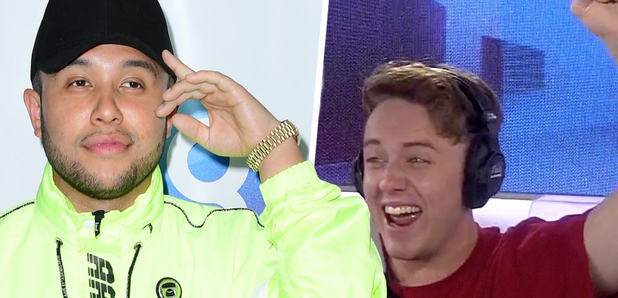 This is gonna sound absolutely HUGE.
Imagine having Jax Jones just be your own personal one-man-band. He's the genius behind the likes of 'Instruction' and 'You Don't Know Me', so the thought of having him write personal songs for you would be incredible.
That's why Roman Kemp was pretty convinced to actually get Jax Jones to make us a huge anthem for Capital Breakfast, using YOUR sound effects, as well as some from massive stars.
> Join #TeamVick To Help Her Take On Roman Kemp, Jack Maynard & 5AM At 'Rough Runner!'
It takes some time to create a masterpiece, which is why we've jotted all of Jax's work in this handy diary.
DAY ONE
It's Monday morning, you're just brushing the gunk out of your eyes, and Roman Kemp FaceTimes you, asking you to make a tune. That's what Jax had to go through. Poor, little lad. We promise to make you some porridge one of these days, boy.
We thought we'd ease Jax into the challenge by using Stevie's simple-as sound effect... A toilet flush. We mean, how hard could it be to put that in a song, right? RIGHT?
DAY TWO
We told you he's a genius, 'cause apparently Jax didn't find it difficult doing that at all. It sounded incredible, so we thought we'd up the task by giving him listener Danny's car horn to tinker with.
And we weren't just content with one sound effect for the day - we wanted to lumber him with another... Paloma Faith's burp. It should sound dodgy, but we just know the finished thing is gonna sound amazing.
DAY THREE
Now, of course if we're making a sweet new hit we just had to get more of you involved! So, we asked Britt to help us out and, well, her sound was interesting. Let's just say any competition for that guest spot is toast!
DAY FOUR
We're decent guys - Jax Jones has already made a dope song for us, so we didn't wanna challenge him too much now, did we? WRONG. Emma delivered her sound effect to use; a squealing kettle. Good luck adding that, Jax... You're gonna need it!
> Download Our App Now To Hear The Full, Finished Product From Actual Jax Jones!