Jason Derulo Hits Back After Fan Slams His 2018 World Cup Anthem
12 April 2018, 15:59
The 'Tip Toe' star wasn't having any of it after a fan raised questions about the song's music video.
Whenever there's a World Cup, there's an epic song to go alongside it (think Shakira in 2014). We know there are plenty of dodgy ones to go alongside that (particularly England songs) but the official anthem is usually a tune.
So when we heard Jason Derulo was releasing the official 2018 FIFA World Cup song, we were naturally excited. However, after the music video for his song 'Colors' emerged, one fan wasn't happy at all.
> WATCH: Jason Derulo Hits Liam Payne With Savage Disses About Cheryl & Bear During Brutal Rap Battle
Taking to Twitter, the fan called out Jason and the music video for not featuring more of the current World Champions Germany, as well as raising the question as to why the woman representing Colombia in the video was waving a Germany flag?
COLORS OFFICIAL VIDEO OUT NOW! https://t.co/1YDHcZmThD
The Coca-Cola Company Anthem for the 2018 @FIFA World Cup pic.twitter.com/C3zHhFsp3i

— Jason Derulo (@jasonderulo) April 11, 2018
Not wanting his work to be misconstrued, Derulo then hit back, saying, 'Darlin I'm here in Germany & there's diversity here. Ur missing the entire point of the song. It's all about unity & togetherness. #lovemore'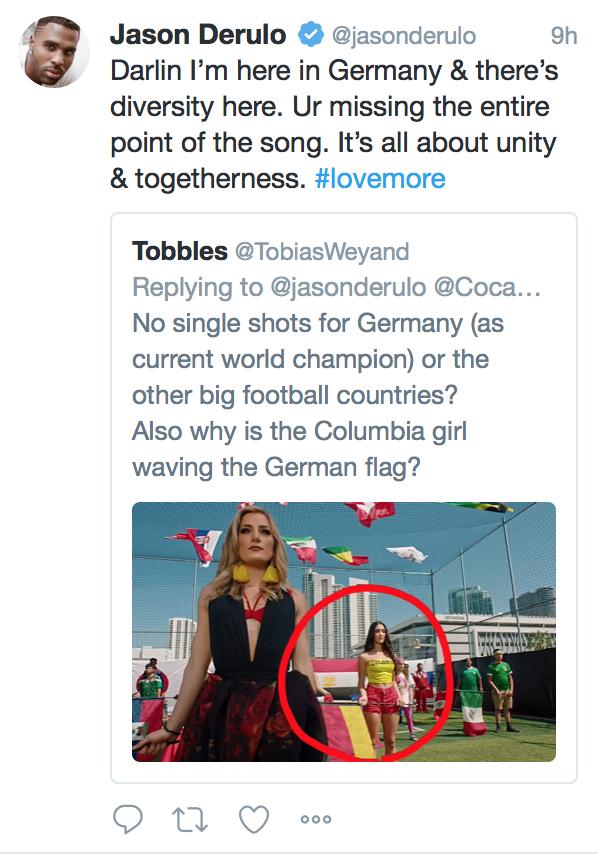 Most fans have been hugely positive about the song and the music video, with many taking to Twitter to share their delight in the new track...
Love it. There's so much to see I have to keep replaying it.

— tjlsll@pacbell.net (@tjlsll4) April 12, 2018
Omg the music video is so good and you look so fine and am so crying rn pic.twitter.com/FyrVXeyGPu

— ????? (@0aalq) April 11, 2018
Jason!!!! Stilly slaying me as usual love everything about this! WE NEED A WORLD WIDE DANCE PARTY #COLORS

— Ashlie (@AshAttack1D) April 12, 2018
Congratulations amazing Jason
I love love love the video #Colors
I'm so proud of youlike always
You've made your #Haiti your family and all your fansvery proud of you.
Many many blessings to you
Thank you so much and love youalways
From Italy

— MariaMichela Jackson (@mariamichelaj) April 11, 2018
> Download Our Fancy New App For All The Latest Music News!
Whilst you're here, check out Mr Derulo's go-to Tinder tips...