So Justin Bieber & James Bay's BRITs Duet WASN'T Planned - James Was Just Helping Out!
25 February 2016, 11:20
Justin Bieber - Love Yourself & Sorry ft. James Bay - Live at The BRIT Awards 2016
05:23
OK, James is now like officially the nicest guy in pop, right?
So it turns out James Bay's surprise duet with Justin Bieber at last night's BRIT Awards 2016 wasn't even planned - James was just being a nice chap and helping ol' Biebs out!
Apparently Justin was in a bit of a bind and was down one swoon-worthy, talented guitarist to join him for the first part of his performance to sing recent smash 'Love Yourself'.
Luckily for him - and everyone who got to watch the show - Biebs has become good mates with 'Hold Back The River' singer James, who was only to happy to pitch in when the call from JB came!
"They were in a spot for this show where they needed a guitar player and it was kind of a, 'hey, do you fancy doing it?'," James Bay revealed to Digital Spy after the show. "I met him and he was a lovely guy and I've just seen him and his manager at different points along the way and became more and more friendly."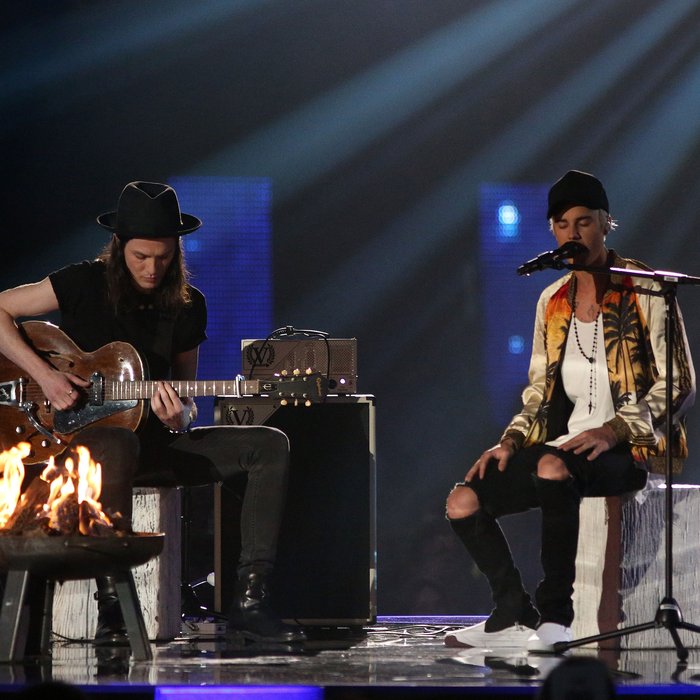 And it sounds like they've been hanging out a lot recently - with James teasing that Justin's been whooping his ass at pool.
"He's very good at a pool table, that's the first thing I noticed. He knows how to pot a few balls."
It was a successful night for both Justin Bieber and James Bay, who won International Male Solo Artist and British Male Solo artist, respectively.
You may also like...