James Arthur – 'You Deserve Better' (Live At The Jingle Bell Ball 2018)
9 December 2018, 17:39
There's no mistaking James Arthur's soulful vocals as he entertained the #CapitalJBB crowd.
James Arthur's 'You Deserve Better' sounded even more incredible performed live in front of 16,000 hit music fans at the Jingle Bell Ball.
Capital's Jingle Bell Ball 2018: How To Watch, Listen & Stream
There's no mistaking that stunning soulful voice, and James got the whole Ball crowd singing and dancing along to this hit.
James is something of a Ball pro, having taken to the stage at Capital's Jingle Bell Ball three times previously – and he just gets better every single time!
James Arthur – Jingle Bell Ball 2018 Set List
'Sun Comes Up'
'You Deserve Better'
'Empty Space'
'The Power Of Love' feat Dalton Harris
'All I Want For Christmas Is You' (Cover)
'Say You Won't Let Go'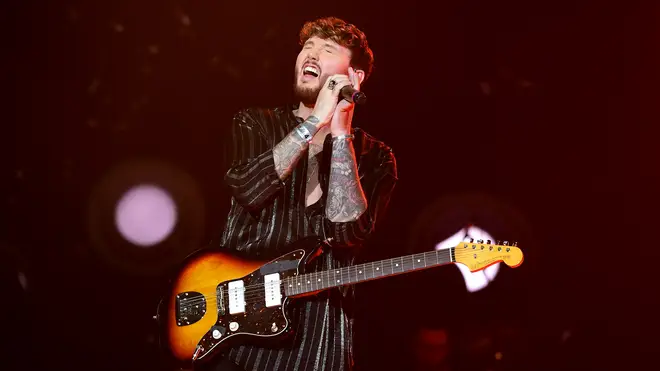 James Arthur – 'You Deserve Better' Lyrics
I'm just not sure whether my heart is working
And yours is beating double time
Deep down you know I ain't even worth it
It's not enough, babe, all I do is make you cry
Like ooh whoa, ooh whoa
I know, I do this every time
Like ooh whoa, I know
That I just got to say what's on my mind
You deserve better, better, better than me
Might be what you want, but I'm not what you need
You're better, better than you even realize
You deserve better, better, better than me
Might be what you want, but I want you to see
You're better off without me in your life
And I hope you find somebody else
That'll love you like nobody else
And I hope he gives you something real, oh, I love you still
But you deserve better, better, better, better
Give up on me, 'cause, babe, I'm hopeless
The more it hurts, the more it's right
You know I loved, I just never showed you
It'll be too late when you're with some other guy
Like ooh whoa, ooh whoa
I know, I do this every time
Like ooh whoa, I know
That I just got to say what's on my mind
You deserve better, better, better than me
Might be what you want, but I'm not what you need
You're better, better than you even realize
You deserve better, better, better than me
Might be what you want, but I want you to see
You're better off without me in your life
And I hope you find somebody else
That'll love you like nobody else
And I hope he gives you something real, oh, I love you still
But you deserve better, better, better, better
Might be what you want, but not what you need
Baby, oh yeah
You deserve better, better, better than me
Might be what you want, but I'm not what you need
You're better, better than you even realize
You deserve better, better, better than me
Might be what you want, but I want you to see
You're better off without me in your life
And I hope you find somebody else
That'll love you like nobody else
And I hope he gives you something real, oh, I love you still
But you deserve better, better, better, better
> Download Our App For The Latest #CapitalJBB News