Is Iggy Azalea Playing Match-Maker To Find Rita Ora A Date?
10 September 2014, 12:55 | Updated: 10 September 2014, 12:56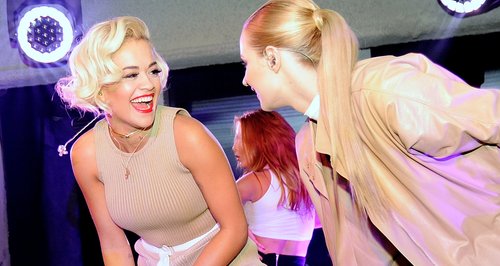 The 'Fancy' rapper is said to be inundated with requests from pals who want to date her BFF Rita.
Seems Rita Ora is in VERY high demand with the sports star pals of Iggy Azalea's boyfriend… but they'll have to go through the 'Fancy' rapper first!
Fresh rumours claim Iggy's Lakers star man Nick Young has his teammates up in arms about wanting to date the 'R.I.P.' superstar, but that Iggy is playing hardball to make sure only a true gentleman gets to take her pop BFF out on a date.
"There are quite a few guys at the Lakers who really fancy Rita, and they would love to take her out," a source told the Daily Star. "They see Iggy as a way in to nabbing a date with her.
"Every time she's at a Lakers function with Nick, they try and butter her up in the hope she'll put in a good word for them," the source explained. "Now that Rita is single, Iggy is getting asked about her all the time.
"So far it hasn't worked because Iggy is quite protective, she tells Nick's teammates that they'll have to prove that they're real gentlemen before she puts them in touch with her friend," they added. "Rita finds the whole thing hilarious, and Iggy is always texting and telling her how in demand she is with the players."
The pair have recently teamed up for a brand new collaboration called 'Black Widow', which is going down VERY well with their fans.
You May Also Like…