Iggy Azalea Talks Robin Thicke MTV EMAs 2013 Duet And 2014 Album Plans – Audio
11 November 2013, 10:11 | Updated: 11 November 2013, 12:44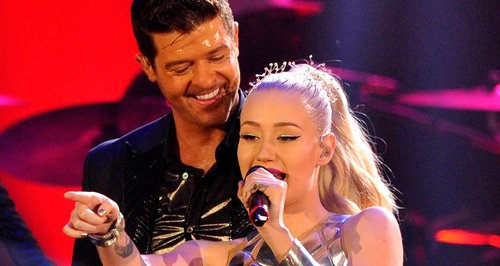 The 'Work' rapper speaks to Capital at last night's ceremony in Amsterdam.
Iggy Azalea told Capital that she was so nervous ahead of her appearance at the MTV EMAs 2013 in Amsterdam last night (10th November).
The Australian star joined Robin Thicke on stage during his rendition of 'Blurred Lines' but said it all came together very last minute.
"I was very nervous because I didn't know I was going to be doing this until a few days before so I was very scared I might mess up but I had a great time out there with him," she declared.
Asked how Robin thought the performance went, she said he definitely approved. "Yeh, he sent me a text message afterwards after and he said he loved it and everybody seems to be very positive about it – I'm excited."
It's been a big year for the rapper who said it was good to look back upon the past twelve months.
"Very gratifying I think. Sometimes when you want something very bad and it doesn't happen it can be very frustrating but this year's been very gratifying," she added.
Listen to Iggy Azalea speaking to Capital's showbiz reporter Kevin Hughes about the MTV EMAs 2013 below:
Iggy Azalea Talks To Capital About The MTV EMAs 2013
Iggy was also looking ahead to her plans for 2014 and said they was thinking about releasing a live version of her debut album.
"My album will come out in March so I'll be touring that album. Really excited to get to perform some new music, do more music videos, which I love to do," she continued.
"Very excited, I'm thinking about doing a live version as well. Because rap music can be so electronic, especially my own, I think it would give it a new element a new texture."
The big winner on the night was fellow rapper Eminem who took home two prizes and performed 'Berzerk' and 'Rap God'.