Iggy Azalea Reveals All About Her Grammys Dress, Upcoming Tour And New Album
27 January 2015, 12:17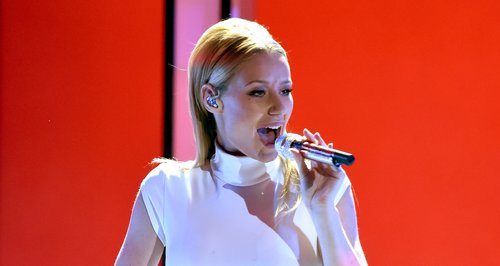 Iggy Azalea is up for FOUR Grammy Award nominations, but of course the thing she's most excited for is her custom made gown!
When you're up for four nominations at an awards ceremony as prestigious as the Grammys, ALL eyes are going to be on you – so it's no wonder Iggy Azalea has big plans for her dress!
The 'Fancy' rapper revealed that she would be wearing blue to the awards show and that her dress is being custom made and designed just for her.
She told Billboard, "I think the dress is the biggest preparation for a woman on Grammy night, so I've been working with a designer who has been making me a dress that's just for me, with me in mind."
"So I'm really excited about seeing that come to life because I haven't done that before. Usually I see it and I pick it so I'm a bit nervous but I'm very excited. It's blue! I love blue."
As well as her huge nods at the Grammys, Iggy has started preparing for her forthcoming tour, 'The Great Escape Tour'. She explained, "I'm kind of just getting in to auditioning dancers and putting together the band and that sort of thing, so I'm not really in the fun stage yet of designing it but I'm really excited."
"I'm in the hiring stage, so after that I'll get to do the fun stuff, the costumes and set design and transitions and all those fun things are going to start happening next month."
So, where will you be escaping with me to on my upcoming #GreatEscapeTour?

— IGGY AZALEA (@IGGYAZALEA) January 18, 2015
Iggy also admitted that she likes performing in small towns just as much as big cities, explaining, "Sometimes it's really nice to go to the towns that might have an arena but don't really have a lot going on because they are super excited and they always scream the easiest and the loudest and it's the most fun."
"But then there might not be a lot to do in the town and there are other places like LA where it is harder to get that hyper, fan crying situation because they are used to seeing celebrities in the supermarket next to them, walking around."
"But it's really cool too, because I get to have my family, my boyfriend can come and friends that wouldn't necessarily get to see the show. I know [they] are in the crowd and I feel like I'm performing for them. So there are different things I like about different places."
Iggy has also started working on the follow up to her debut album, 'The New Classic', but she says it hasn't been hard to juggle all of her commitments.
She explained, "It's easy when you're not travelling. I haven't been travelling for shows because of course I've got the tour, so that's freed up a lot of my time to multitask and be at home and be doing a million things at once."
"I work on my album a bit, I work on my tour, I'm directing my video coming up for 'Trouble' with Jennifer Hudson, so I kind of sit at home and I just multitask a lot."
You May Also Like…